AG: Fans Reactions Overwhelm Okagbare after 100m Disqualification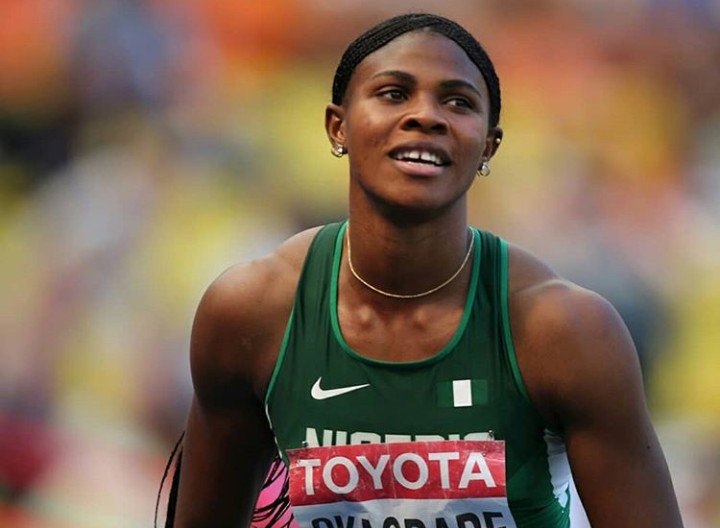 Fans have been so special to Nigerian sprint queen, Blessing Okagbare and they won't let her soak down after her disqualification from 100metre sprint race which howbeit took everyone not pleased including the athlete.
On Monday the Nigerian international had a false starter and by the rules of the ongoing All Africa Games in Morocco, the super star sprinter couldn't had to progress to the final of the race.
It was so sad and unfortunate for the fans who had looked forward to the reigning African star reenacting her chances of retaining her position among the the gold bearers and medal haulers in the athletics event of the games.
But then, Okagbares overwhelming records, success and achievements spontaneously quenched the fans tastes to soak in the waters of her disqualification and instead the fans remembered that she HSS nothing left to prove or show that she's a match winner and cheeta for others to catch up with in the race competition.
Though Okagbare may have regretted the ouster as she wrote on  her post o line saying…
I know my fans are disappointed and if you know me, you know i don't just show up. I show up and i am also there. Today didn't go as planned but, lesson learned and gratitude given to God for my journey so far…
Hours after, she took online and write again urging the fans that Sometimes the blessing is not always about what's given but what He takes away…
The rooted with meaning you will say and well understood by her teaming fans as the post had gained series of show of love and reflection of esteems in their reactions on her handles shortly after posting…
RREAD the FANS REACTIONS BELOW
Well-done Champ…. You will come good… Blessings for Blessing @_godspla
Read about your disqualification yesterday but i know you will always come back better. You are cham @Godfrepeace
Explaining track to someone who does not watch the sport is like taking calculus @_kingben_
Thank you 🙏 for showing and there is still 200m and 4×400 with mixed relays ! God is your strength!, @chuksfralin
No problem champ, but we must win the 4 by 100 relay, @agbele4real
Come back strong champion, @insua00
After she might have read possibly some of the post Okagbare reciprocated the love shared stating that the messages are soulifting and strong to keep her head long ahead beyond the competition.
The love tho…. I can't love you guys less… Gratitude.🙌🙌🙏🙏🙏 Even when my chances grow thinner, you guys remind me of how gracious and exciting my journey has/have been. We stay winning and rising..🙌🙌🙏🙏❤❤🥰🥰🥰
Okagbare remain Africans fastest woman with medals from Olympics and World Championships.