Ball Girl tickled by New found friendship with Nadal
World number one Rafael Nadal and Ball Girl Anita
Accidents are not funny because it often comes with pain. When you get hit by tennis ball flying at top speed you will agree that it is no tea party.
But Ball Girl Anita, who was accidentally hit on the face by accelerating ball from forehand return from world number Rafael Nadal, is counting the blessings of that accident.
Luckily she is not feeling serious pain rather the incident has brought her closer to her idol and one she considers the best tennis player in the world.
As if that was not enough the world's number one, went  to her to apologise but also gave her a kiss on the cheek even as some envious fans wish they were the ones in her shoes.
Did I hear you say when an accident becomes a blessing in disguise? Nadal has already met not just Anita but her brother and parents.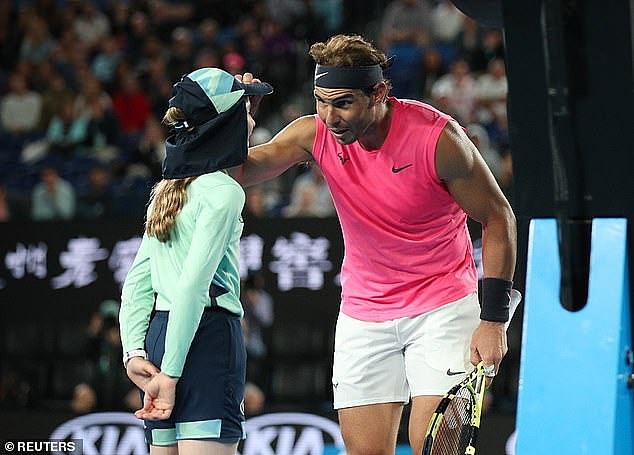 Anita confessed that she is 'touched by the kindness of the Spaniard who brushed aside Argentina's Federico Delbonis   on Thursday to set up a third round clash with  fellow Spaniard Pablo Carreño Busta on Saturday to be followed by a fourth round clash with Australian star Nick Kyrgios if he overcomes Delbonis as has been predicted by analysts.
An excited Anita said 'I can't believe it. He's my favourite tennis player so I never expected this at all.
'He asked me if I was okay and we just talked about how he was going.
'It was just so nice to meet him and to talk to him and he gave me this hat that says "To my friend Anita, all the best' 'Anita also said she hopes Nadal wins the Australian Open.
Meanwhile, his fans fawned over the world number one and said they wished that they were kissed.
'Oh to be almost hit in the head by Rafael Nadal's tennis ball, and to then be kissed tenderly on the cheek in apology,' one wrote.
'Rafael Nadal is the best. Apologizes to the girl after accidentally getting hit on the head and gets a kiss. What a class act by Nadal!!
Read AlsoAussie Open: Williams suffers heartbreak as Wang shatters record Grand Slam quest
In his post-match interview on Rod Laver Arena, Nadal said it was one of the scariest moments of his career.'For her it was probably not a good moment,' Nadal said.
'I was so scared for her honestly the ball was so quick and (hit her) straight on the head. She's a super brave girl.'