British sprinter Jodie Williams ends seven-year wait for medal
Exactly a decade ago to the very day, Jodie Williams had the world at her feet. Nicknamed "Moneylegs" after an astonishing 151-race, five-year junior unbeaten streak, she finished fourth on her senior international debut as a 17-year-old over 60 metres at the European Indoor Championships. The future seemed to be paved with gold.
Yet by Saturday night, it had been seven long years and hundreds of sleepless nights since she last stood on an individual podium. Twice she came close to quitting the sport entirely. Finally, the drought is over.
Stepping up in distance to the 400m for the first time, the British team captain claimed a European indoor bronze before proclaiming she had her "mojo back". Her time of 51.73sec was all the more impressive given she was drawn in the tightest inside lane and, while she had no answer to Netherlands' rampant winner Femke Bol, it heralded a remarkable second coming after years spent battling injuries and attempting to live up to the reputation she built as a youngster.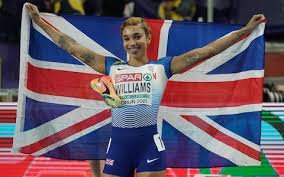 "I'm just really glad I've proved to myself I can get on podiums again," she said. "This champs was about overcoming those mental barriers. This is huge. It's taught me how to fight again.
Read AlsoOregon 2022 reveals logo for World Athletics Championships
"It's been a lot of ups and downs and a while since I've been on a podium. It has been full of near-misses and if-onlys, so I am really glad I have proved myself.
"I knew I had it in me. This sport is such a mental battle. I have my mojo back."