Diego Maradona's 1992 Porsche 911 for auction
Diego Maradona's 1992 Porsche 911 for auction
A stunning early 1990s Porsche 911 first owned and driven by legendary footballer Diego Maradona will be sold at auction for the first time.
The 1992 model, purchased by 'El Diego' in 1992 during his final season playing in Europe at Sevilla, will be sold next month at the Bonhams Les Grand Marques Du Monde à Paris Sale.
The car, which Maradona was driving when stopped by armed police in the Spanish city centre for speeding at 120mph, is estimated the achieve a figure in the region of €150,000 to €200,000 (£132,000 to £175,000).
However, since the Argentine's death in November, the winning bid could far exceed those figures as demand for one of the world's all-time great player's previous items and memorabilia begins to increase.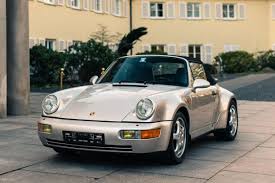 Off the pitch, Maradona  who infamously scored the 'hand of God' goal against England in the 1986 Mexico World Cup was known to appreciate beautiful and exotic motor cars.
This example from the footballer's previous collection is a 1992 Porsche 911 Type 964 Carrera 2 Convertible Works Turbo Look, which was delivered new to the World Cup winner in November 1992.
It was driven by the Argentinian icon during his last season of European football, playing for Sevilla.
Read AlsoCronica TV publishes Maradona's 'last video' before his death
He had moved to the Spanish giants after serving a 15-month ban for failing a drug test for cocaine while playing in Italy for Napoli – the club team synonymous with Maradona.