Ekong: Eagles are AFCON contenders after South Africa win
Ekong at the 2019 Africa Cup of Nations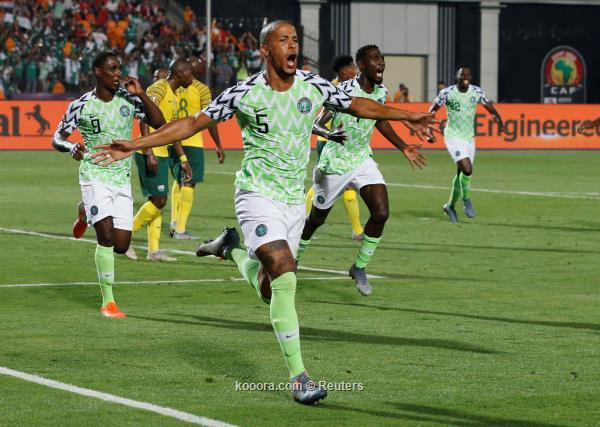 Super Eagles defender, William Troost Ekong has stated that Nigerians should now see the team as one of the contenders for the 2019 Africa Cup of Nations title against the backdrop of the criticisms they faced before the start of the competition after the eliminated South Africa to qualify for the semi-final of the competition.
Ekong scored what turned out to be the winning goal in the 89th minute after a good pass from Moses Simon and the Udinese centre back told SportingLife that he was delighted to get the Eagles second goal
through the same process the Bafana Bafana equalized Samuel Chukwueze's opener.
He said they were unlucky to concede the goal the way they did when Bongani Zungu levelled the scores for South Africa in the 71st minute after the ball that could have been adjudged as offside slipped into the net off Odion Ighalo's shoulder but that he was impressed with the way they recovered to get the winning goal.
"I think that is what made more eager to try and get revenge and try and score through set pieces as well," Ekong told SportingLife.
"I think I have to say that we were a little unlucky because the ball came through the shoulder of Ighalo otherwise it would have been an offside decision against South Africa. It is what we have VAR for and
who knows maybe it can make a difference for us in the next game and we might get a little lucky too."
Ekong disclosed that he was thrilled that the Eagles were able to overcome the criticisms that trailed their preparations for the AFCON and that he is happy that the dream he had that the Eagles won the
2019 AFCON is gradually becoming fruition.
"Both will be difficult and I think Nigeria is turning to a contender now," he continued.
"I think at the beginning of the tournament people were not too happy with us and there was a lot of criticisms while going for the AFCON but we have to be ready for any team now. I dreamt about it and I am
not going to confidently say that now.
"But the good team about us is that everyone is humble we are the young team and I think we respect all other teams. We knew that South Africa and Cameroon were good teams before we played against them and
we were able to prepare very well for them.
"It is going to be the same for the team that emerges as our semi-final opponents. We have to be very ready also for them."