Chief Michael Ade-Ojo, the founder of Elizade University and chairman of Toyota (Nigeria) Limited has praised Olalere Olakunle outstanding performance in the amateur men category of the recently concluded 15th edition of Elizabeth Wuraola Ojo Memorial Golf Tournament (EWOMGT) held at the Smokin Hill Golf Resort, Ilara Mokin,
Ondo state; urging the young man to face his studies and continue his progress in golf.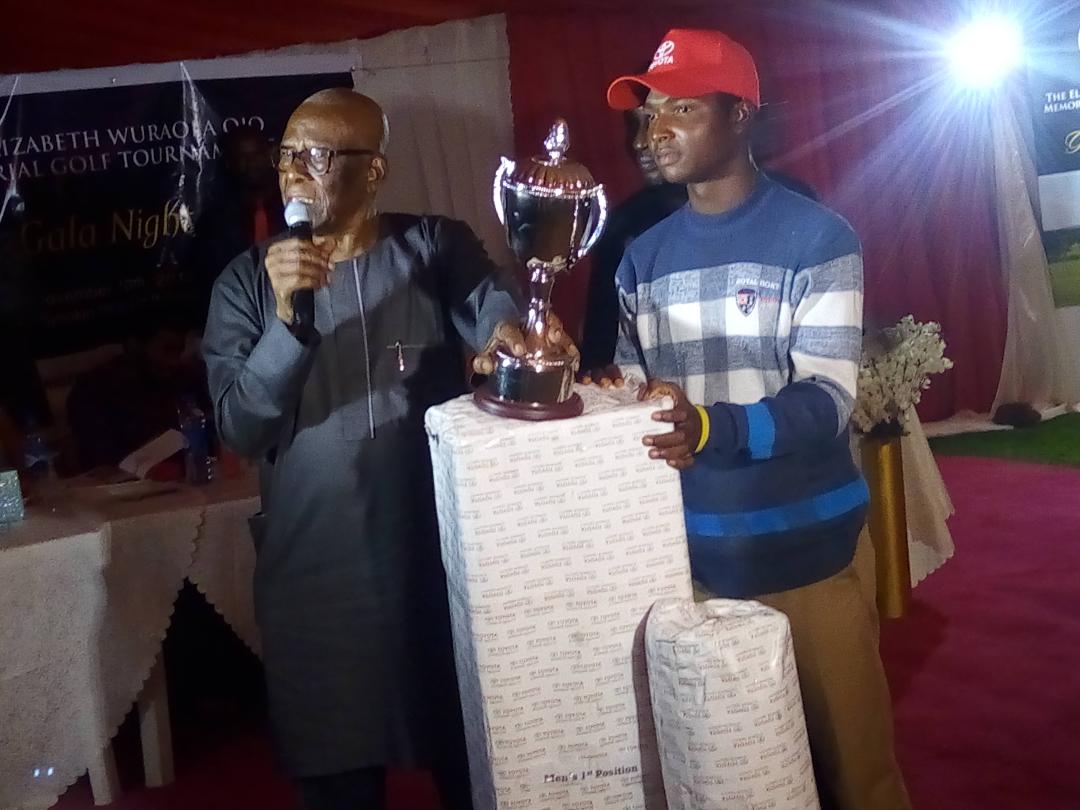 Olakunle from Rosani Golf Club, playing handicap 16 was the toast of golfers at the gala night climaxing this year's event as everyone was paying homage and posing for photographs with him.
Though he missed out the elusive prize of N5 million sponsorship prize for the hole-in-one by a whisker, the 17 year old posted a gross of 75 and a net of 59 to clinch the title and a university scholarship.
Announcing the award, Chief Ade-Ojo said, "this little boy performed exceedingly well in the tournament that he narrowly missed the sponsorship prize for hole 13. I don't know what brought you here and I have never met you before. He wanted to go to a polytechnic but, even then, the parents have no money to train. I don't know his
background, but people like this must be encouraged. This is the type of people who can make the country great and I pray he'll succeed in life and as an upcoming golfer he shall be celebrated. I thank God for your life, your parents and I thank today. I award you a full scholarship to study at Elizade University. This message
should be conveyed to the registrar so that he can become one of our distinguished students".
" Face your studies and golf, there's enough food there for you and by the grace of God I want to see your name as the winner of Nigeria Golf tournament. Once again congratulations", Chief Ade-Ojo concluded.
Responding, Olakunle thanked Chief Ade-Ojo and pledged not disappoint him.
" Today is my happiest day, it's like I'm over the world. I'm so glad and it's a great privilege for me and my family. I never thought of going to the university before, but this victory has brought me luck and scholarship. So I thank God Almighty and Chief Ade-Ojo my father. May God continue to bless him and his family", he said.