Fans to pay N1,500, N54,000 for Popular, VIP seats to watch Eagles in Jo'burg
Dino Ndlovu celebrates goal with teammate Percy Tau of South Africa during the 2019 African Cup of Nations match between South Africa and Seychelles at the FNB Stadium, Johannesburg on 13 October 2018 ©Muzi Ntombela/BackpagePix
Nigerians willing to watch the Super Eagles face South Africa's Bafana Bafana at the FNB Stadium in Johannesburg in the all-important Africa Cup of Nations qualifier must be ready to part away with N1,500.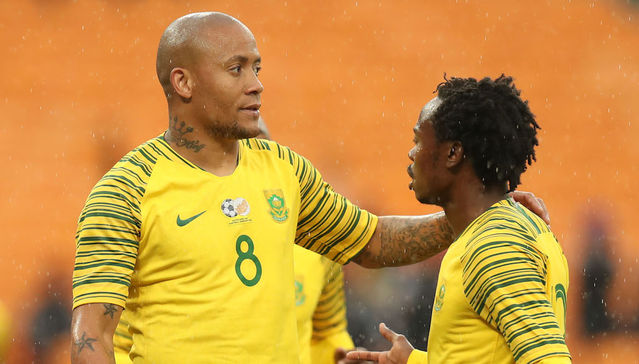 South Africa Football Association (SAFA) on Friday confirmed  that the popular area will go for 60 rands which is N1,500 while Children under the age 12 can pay 10 rands which is the equivalent of N250.
Both prices are the cheapest for the encounter which comes up on November 17. Other seats such as the reserved  and the corporate hospitality tickets which excludes vat have been pegged at N3,000 and N54,000 respectively.
Meanwhile the nation's football governing body have designated certain outlets for the sale of the tickets to ease the burden of buying it at the point of entry into the stadium.
Read Also: AFCON 2019 Qualifier: South Africa fans to watch Eagles, Bafana Bafana for N54,000
SAFA reduced the amount for the popular sides to enable fans and lovers of the game attend the clash after their home team shocked the Eagles 2-0 at the Godswill Akpabio Stadium in the first leg in June last year.