Fathers' Advice: Why I never get carried away-Mike Schumacher
Michael Schumacher's son Mick has opened up on the lessons he learned from his legendary father, revealing that he particularly warned him against getting carried away.
Mick, 21, rarely speaks about his F1 legend father, who won seven Formula 1 World Championship titles between 1994 and 2004, writing his name in the history books while inspiring many.
The youngster has since made his own way in the sport and was announced as a driver for the Ferrari Driver Academy in 2019, before completing a day of in-season testing at Bahrain International Circuit.
In regards to his father, the family has decided not to publicly address the skiing accident back in December 2013 that saw him placed in a medically induced coma because of traumatic brain injury.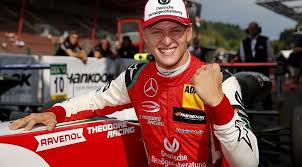 In an emotional letter with sponsor UnderArmor, Mick has acknowledged that although he understands why his father is adored by millions of fans worldwide, that first and foremost: "He is always my father in the first place."
Although Mick followed the wishes of his family and didn't talk in detail about his dad's condition, he did mention the life lessons he continues to follow.
He said: "I don't take the lessons he passed on to me as a matter of course. One of these lessons is to remain constant, never to be too euphoric or too depressed."
Read AlsoSchumacher's daughter Gina waxing stronger
On 29 December 2013, Schumacher was skiing with his 14-year-old son Mick, descending the Combe de Saulire below the Dent de Burgin above Méribel in the French Alps. Unfortunately he fell and hit his head on a rock sustaining a serious head injury despite wearing a ski helmet.