FIFA'S $2.8M LARGESSE: Rohr gets $90,000 (N32.4 m)
epa06842760 Nigeria's coach Gernot Rohr reacts during the FIFA World Cup 2018 group D preliminary round soccer match between Nigeria and Argentina in St.Petersburg, Russia, 26 June 2018. (RESTRICTIONS APPLY: Editorial Use Only, not used in association with any commercial entity - Images must not be used in any form of alert service or push service of any kind including via mobile alert services, downloads to mobile devices or MMS messaging - Images must appear as still images and must not emulate match action video footage - No alteration is made to, and no text or image is superimposed over, any published image which: (a) intentionally obscures or removes a sponsor identification image; or (b) adds or overlays the commercial identification of any third party which is not officially associated with the FIFA World Cup) EPA/TOLGA BOZOGLU EDITORIAL USE ONLY
Nigeria's senior national soccer team's Chief Coach Gernot Rohr was paid $90,000 as his Russia 2018 World Cup bonus, with word rife that he expected more than what he got from chieftains of the Nigeria Football Federation (NFF's) .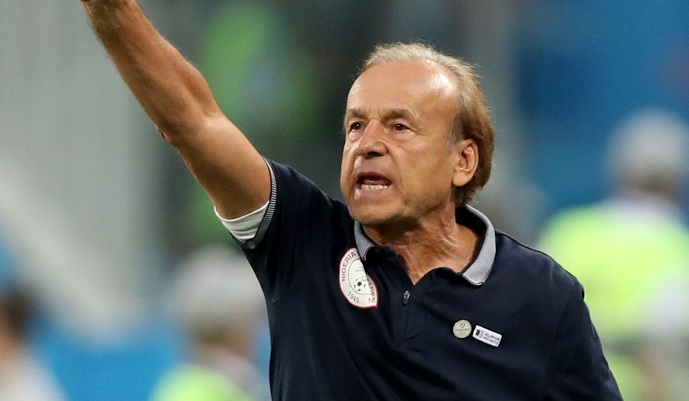 Rohr raised his reservations over what he was paid at the negotiation table for the renewal of his coaching deal with Nigeria, where he got a ($60,000) increment culminating in a $55,000 monthly wage, unlike the $50,000 monthly which he was initially getting.
Interestingly, the payment of Rohr's $55,000 monthly wages has been perfected in line with President Buhari's administration's TSA model for the month of December 2018.
Indeed, the paperwork for Rohr's January 2019 wages could also be ready by next week, putting a lie to speculations that the coach was being paid his wages unfront. Rohr hasn't made the late payment of his wages an issue, preferring rather to praise the NFF President Amaju Pinnick for being there for him when he needs cash to prosecute his progammes.
Sportinglife.ng gathered exclusively that each member of the Super Eagles' 22-man squad was paid $45,000 amounting to $990,000 (N356.4 million) for participating at the Russia 2018 World Cup, with the cash coming from FIFA's $2.8 million for such an exercise.
The balance $1.720 million was used to pay the three assistant coaches, the team's doctor, backroom staff etc. In fact, all those who partook in Nigeria's qualification for the Russia 2018 World Cup, including recuperating goalkeeper Carl Ikeme was paid a chunk from the balance.
Also in this group were players and coaches who participated at the qualification stage since without their efforts, the country couldn't have qualified for the Mundial in Russia.