Former football star slams Murray for crying at press conference
Former footballer Alan Brazil slammed Andy Murray for crying during his press conference at the Australian Open. The British player was very emotional in announcing his retirement from tennis.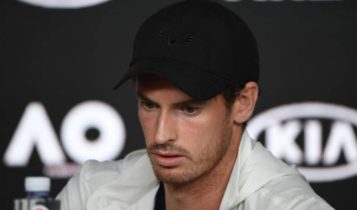 Brazil said Murray's behaviour was exaggerated and he also mentioned some examples with other tennis legends: "Give us a break, come on. He's playing tennis for God's sake. I'm not having the bubbles, the tears.
The pain, the pain, the pain. What were the tears? Come on! I don't recall (Novak) Djokovic or (Roger) Federer crying their eyes out. I admire what he has done, but I don't want tears. If he's in pain, go to a proper specialist and get it sorted.
I'm not having this. Anyone can play tennis. I'm more agile than he will ever be. Don't get married and don't have a kid if you want to be a sportsman. I put this down to being a father, having a kid. Your life changes.
Andy has just got to say; listen the body doesn't work any more. I've got married, I've got a kid, see ya. Lovely". In a recent interview, the former world No. 4 singles player Jonas Bjorkman commented on Andy Murray's retirement from tennis.
Bjorkman, who worked with Murray in some past years, said: "It's really bad. I feel for him. Murray has been dealing with hip issues for several years. You become sad when you see his press conference. I last met him at the ATP Finals in London in November and I understood that the hip was not the way he expected.
I knew he was not at 100%, but you carried hopes. It hurts and I think it's the same for all the athletes. You always want to choose when to end your career. He was an example for his entire career. Unbelievably professional in the preparation and after the matches.