How I turned hardship into breakthrough- Daniel Chima Chukwu
China based Nigerian footballer, Daniel Chima Chukwu never knew he would make fame and fortune
playing the game. He wanted to go to the university after he finished secondary school but
lack of funds made it impossible for him to realise his ambition.
So, when he got an offer to join Jigawa Golden Stars, the striker saw it as a lifeline and
grabbed the opportunity with both hands.
From Jigawa Stars, he moved to Bussdor FC in 2007 where fate brought the man who facililated
his move to Norway. In this exclusive interview with SportingLife.ng, Chukwu goes deeper into
how he weathered the storm to turn hardship into breakthrough with his football career.
How did you start your career?
I started my career professionally with Jigawa Golden Stars, before joining Bussdor FC in 2007. I came to Norway for trials in 2009, and signed for Lyn FK of Norway in February 2010, that was how my adventure in Europe began.
Was there anybody that played a vital role in your movement to Europe?
Other than my manager Atta Aneke, there was this guy back in Port Harcourt, Bright Ogude, who came to meet me at Bussdor's camp, requesting for my passport page which I sent to him. A week later he came to me and said I'll be going to Abuja to apply for visa, he paid for my flight and took me to the airport himself. I don't think I would've met my manager if not through Bright Ogude. So, I will say he played a big role. Didn't know I will be traveling abroad, didn't have a manager until Bright came into my life.
What about your parents were they in support of you playing football or going to school?
My parents wanted me to further all the way, but back then the hardship was too much, I thought about going to the university, but then how do I survive when I knew we didn't have money, my other sister just got admission into the university and they are still struggling to pay her bills. So, when Jigawa Golden Stars opportunity came knocking, I went for it without a second thought and my parents understood that it was a better decision for that time so they gave me their blessings.
How did you cope with the weather, language and food first time you got to Norway?
Didn't have any issues with weather, language or food the first time, because I was there on trials and the team had a Nigerian Chukwuma Akabueze playing for them already, so he helped me out with language and Nigerian food. Besides, it was summer when I first got there.
However, it was more difficult the second time I came back to sign, because I went to another team during the winter period and I didn't know I had to travel with winter jacket, winter  shoes, so I went there the normal way I usually dress in Nigeria. It was when I got there and  couldn't move because of cold, that they got me stuffs to help me cope with the weather. I was  very okay with the food because Paul Obiefule and stanley Ihugba were there to make Nigerian meals for me. About the language, it wasn't much of a problem because they communicated with me in English.
Looking back from where you're coming from, will you say you took the right decision traveling to Europe to play professional football?
If I'm presented with same situation again, I will take the same decision over and over again. I have no regrets.
What about the women in Europe since you went there at a very young age. How many times were you tempted and did you fall?
It depends on the kind of temptations you are talking about (laughs). Norwegian women are nice, very friendly and welcoming
Are you saying you never dated a Norwegian or an European?
I got really close to dating a Norwegian and an Irish girl, but we didn't start any relationship. Turns out I'm more into African women in terms of dating.
So, do you have an African lady in your life now?
Yea, right now I'm engaged to my African bride.
Which country is your fiancee from?
Actually, she's a Nigerian. An Igbo lady
How did you meet her, was it love at first sight?
Saw her in Owerri in one of my holidays years back, but I was rushing to deliver a message and
by the time I came out, she was no where to be found. A year later, I saw her again on IG, and
reached out to her, days later she responded and we got talking. I told her exactly where I
saw her about a year back in Owerri and how I looked out for her when I came out. I came back
to Nigeria after the season, we met  and the rest is now history. I will be spending the rest
of my life with her God willing.
Have you ever been called up to the national team?
No I haven't.
Does it worry you?
At a point, it did get me worried but with time I got over it. I'm just glad to be alive and still active to do what I love doing and being paid for it too.
Do you think you still have a chance to play for the Eagles?
As long as I'm still very much active in the game, there's always a chance. The chance dies when the career is over.
What new dimension do you think you can bring to the national team?
I'm a 100% team player, I'm that kind of player that his teammates gets all powered up knowing that I'm on the field of play.  I give my best in all games. I score goals, I make assists and  I create chances for goals. My teammates always believe I'm going to come up with either of the stuff mentioned.
How will you rate the Eagles under coach Gernot Rohr?
I think they got better because they developed a lot more friendship, brotherhood and that is very important for athletes. When a team is united, it pushes the players to do more and get better.
What has been the best moment of your career so far?
Playing Europa League group stage and Champions League playoffs, of course being League and Cup winner back to back. I won three Norwegian League titles and two Norwegian Cup titles with Molde FK of Norway. I also won the 2016/2017 League title with Legia Warsaw of Poland. I played Europa League group stage with Molde FK and Legia Warsaw.
Can you share your experience playing under the current Manchester United boss Ole Gunnar
Solskjaer at Molde?
It was an amazing experience. He brings all the players together, never makes any player feel less important to the other. He gives every player the benefit of doubt to prove they deserve a place in his team. In general, it was a good experience playing under him.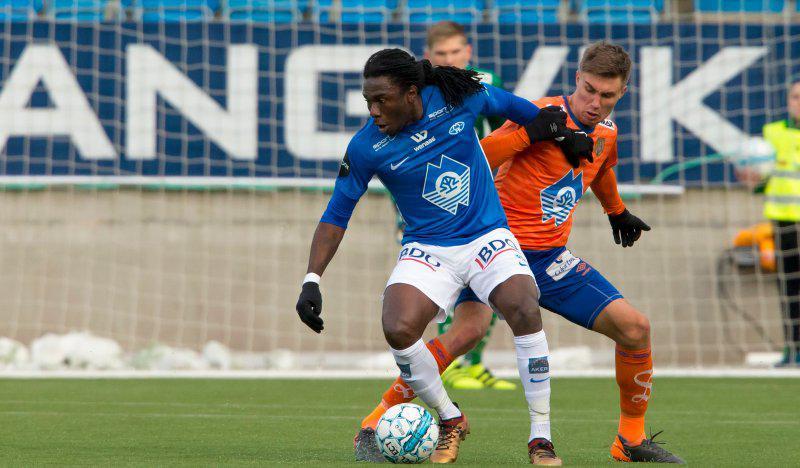 Are you still in contact with him?
Yea, when I have to congratulate him or wish him well for his coming game.
Finally, what are your favourite cars, perfume and designer wears?
My favourite cars are Porche Panamera and Range Rover Sports. Favourite perfume is Creed Aventus and Amouage. I like designers, but Gucci and LV I have most.
Your favourite player, team and why?
Thiery Henry is still very much my favourite player, I just love everything about how he plays. Arsenal is the team I support too.
How is life in China and why you returned there?
Life in China is good and I went back because after going back to Europe, China never left my mind. Perhaps, I didn't really explore it enough to my satisfaction, so I came back.
Do you meet Nigerians playing in China regularly?
I've only met two Nigerian players here after I came back.. Aaron Samuel and John Owoeri.