How Tomori gingered me to grab a hat-trick-Abraham
Tammy Abraham reacts after netting thrice against Wolves
As the EPL gradually moves to re-start, Nigeria born Chelsea forward Tammy Abraham has gone memory lane recalling how compatriot Fikayo Tomori gingered him to score thrice against Wolves.
Both players who opted to play for Three Lions of England as against the Super Eagles were x-raying some of the impressive performances they had just before close to three month lockdown no thanks to Coronavirus pandemic.
The said tie played way back in September, saw the Blues run away with a 5-2 victory.
Tomori had put the Blues in front at Molineux at a time Abraham felt tired and was wishing to leave the pitch.
But Tomori who appeared to have 'seen the future' urged him on, only for him to score twice to establish 3-0 lead at first half.
A fatigued Abraham, who obeyed the clarion call from teammate and brother, added the third goal in the 55th minute.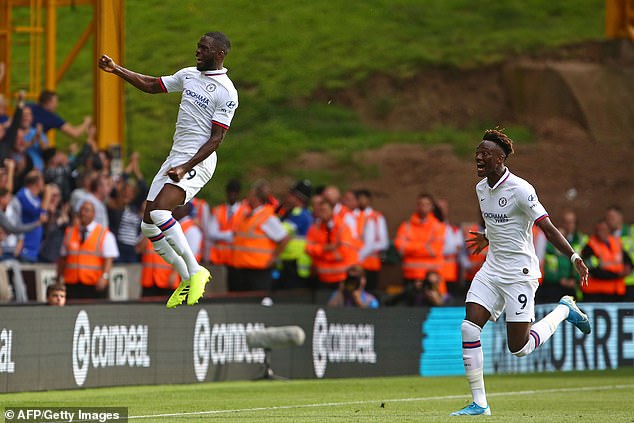 Abraham told the official Chelsea website: 'It was one of those feelings where you score in two consecutive games so you're not under pressure to score, in my head I felt there was no pressure.
'Fikayo had already scored a banger, then my first chance came and I took it. Then there was another one and I scored again, so we were in a great position at half-time.
'I said to Fikayo, 'I'm tired, man, I might just tell the manager to replace me', Fik was like: 'Stay on the pitch, try and get your hat-trick' because it was the second game in a row I'd scored two goals.
'I came out for the second half and then I just remember I was one-on-one with Conor Coady and the confidence that I had inside me took the tiredness away, I did that skill to get away from him and scored and then after the game me, Mason and Fikayo were all talking and realising that we'd all just scored for Chelsea in the Premier League, so it was crazy and amazing feelings that day.'
Read AlsoMy father doubles as football fan and analyst-Fikayo Tomori
The England international made a fine start to his debut season in the Chelsea first team, netting seven times in his opening five Premier League matches.
Goals have been harder to come by since the turn of the year, but the 22-year-old forward has recorded 15 goals in 34 appearances this term.