'I am not cheap'- Oluwaseun Wahab warns Abraham Nova
Undefeated Nigeria Super Featherweight boxer, Oluwaseun 'The Machine' Wahab has warned Abraham Nova not to underestimate him when they battle in New York next month.
The eight-round fight, which would hold at the Main Street Armory, Rochester on February 1, will be Wahab's first in America and the 28 year old added that he is ready to give his all in the fight.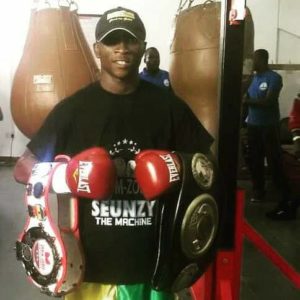 Wahab said: "Nova is in trouble.
"He thinks I am one of those cheap boxers they bring and he easily steps on them and knock them out but no, I am totally different because this is my life and I am ready to give it all."
Wahab, mentored by Ghanaian International Boxing Hall of Famer Azumah Nelson, added that he is ready for the fight and Nigerians should expect nothing but the best from him.
"I am physically and mentally ready for this fight. I believe in hard work and have done all my home work.
"I can't wait to show the world my skills and Nigerians should expect nothing but the best from me."
Wahab beat Tanzanian Issa Nampepeche in the headline fight of GOtv Boxing Night 17 in December to win the vacant World Boxing Federation (WBF) Intercontinental Super Featherweight title in his first fight in Nigeria.
Wahab made his professional debut in 2014 against Mark Okine in Accra and remains undefeated in 18 fights.
Puerto Rico-born Nova, 25, is a former number one-ranked amateur in US and is also undefeated. He has fought 14 times with 10 of the fights ending with knockouts.
He made his professional debut in 2016 and is currently the North American Boxing Association (NABA) Super Featherweight champion.