How injury knocked me out of 1994 World Cup – Ashinze
Joseph Ashinze remains the most colourful and enterprising goalscorer in the history of Nigerian football because of his trickery and precision style in front of goal. He was one of the players who raised the flag of the defunct  Lagos, Stationery Stores Football Club darling team-high during his prime. He was a fast-mover and uncanny striker. Ashinze was so good that he won the local league Highest Scorer award thrice in 1987, 1988 and 1989. The achievement  made former Super Eagles coaches look for him to play for the national team. But his dream of wearing the national colours during the 1994 FIFA World Cup in USA was dashed by a re-occurring injury.
In this interview, with GBOLAHAN DADA, he reveals everything about himself and his career to Sportinglife.ng.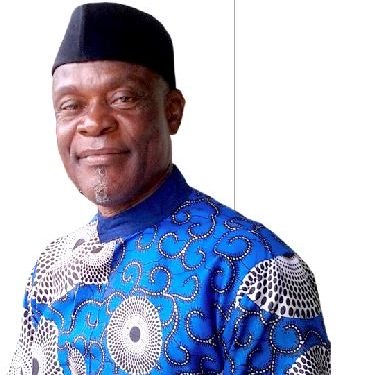 In the beginning:
I was born in Lagos fifty-something years ago. I grew up inside Lagos Island. I'm a real Lagosian. 'Omo Eko ni mi'. All my life is about playing football.  I started early enough with the support of my parents who decided to settle here from Ibusa in Delta State. Playing around the suburb of 'Isale Eko', I found the strength and the encouragement to forge ahead in spite of numerous challenges.
Lagos is like a home to me because I was born and nurtured on Lagos Island and Ebute Metta (West) now called Apapa Road. I was so excited about it.
Ambassador of grassroots football: In the early part of my life as a teenager, I knew that I would make a career in football and I pursued it vigorously with everything within me to succeed. I used to move from one football arena to another. From Campos Square, Lafiaji, Ebute Metta to Mushin Olosha and other parts of Lagos where 'felele' set football is played. I started the journey with the late Mudashiru Lawal. Playing football was the only language we understood. The more we played, the more we understood the language of the game. Naturally, I was just flowing in the game and goal-scoring later became a habit.
At St. Paul Primary school, Apapa Road, where I met Nigeria legend, Godwin Odiye, I exhibited my skills before furthering my education at Eko Boys High School.
Natural striker:
I want to bless God for giving me such a remarkable ability to make a mark in my generation. Goal-scoring always came naturally. No goalkeeper could stop me if I was determined to score. I worked very hard to get to that level because my football career started from the grassroots. No coach discovered me. It is God who gave me the strength and sense of purpose to discover myself and I worked towards attaining the height.
Football then and now:
During my active days, footballers played football with passion and raw energy. There were more skillful and determined players around but now, footballers are lazy and more  money-conscious. In those days even without the cash, footballers loved the game than anything. For example,  Stationery Stores recruited quality players without adequate sign-on fees. The players just wanted to play for clubs to launch themselves to stardom.
Considering the security situation in the country now, and the standard of the players we have, fans don't enjoy football entertainment any longer. In those days, fans came to stadiums even for the sake of the players. They entered the stadium because they wanted to see a particular player in action. They were so crazy about watching good football and the players also liked to entertain the crowd and give them the value for their hard-earned money. It was a give and take policy. But these days it is no longer so. Politics has destroyed football. As for the clubs, how do you expect good results when you are owing a player a backlog of salaries. Some players are playing without sign-on fees. It is discouraging and a bad omen for Nigerian football.
Don't forget that the economy was not too bad then. As a footballer I earned more than a bank manager then. Time is everything. Some future players may still earn more than players playing now. So I have no regrets. I have achieved whatever I wanted as a player.
Playing as a professional player:
I was fortunate to exhibit my talent for two Eastern teams, Iwuanyanwu Nationale of Owerri and Rangers International of Enugu. I made my name from the two clubs as the only player to have won the Top Scorer award in Nigeria's top flight back-to-back in 1987,1988 and 1989 after my short stint with Stationery Stores.
In 1987, I scored nine goals while with the Stationery Stores to emerge the leading scorer that season before moving to Rangers to re-enact the magic by scoring 11 goals to top the chart. A year later, I moved to Iwuanyanwu Nationale (now Heartland) and scored ten goals after taking my chance with the departure of the striking duo of  Mike Obiku and Uwakwe Eke that season before I eventually travelled out on greener pastures
Love  for Stationery Stores:
It still remains the same Super Stores for life. This is a club every aspiring footballer should play for. Without much resources, you are always happy and motivated. The atmosphere was great. The fans were wonderful. They are never-say-die fans who would do anything to keep the club going. The supporters were absolutely great, tasking themselves to cheer-up the team. Stationery Stores is a joyful and wonderful family. There was no dull moment for us. Every day was carnival-like for the team. I cannot describe the mentality behind the team.
Stores is still a household name in football because many successful players passed through the institution.
It did not take me much time to blend and adapt to the system because I was also part of the system. Immediately I saw most of my childhood friends, I was motivated to prove my worth. Everybody wanted to see that boy in action and I thank God I did not disappoint the fans and everybody was happy with Ashinze.
This, however, led to my invitation into the national team under the late coach Paul Hamilton. I was at my best then but not able to shine in Eagles. The Eagles' coaches preferred the late Rashidi Yekini and Samson Siasia ahead of me but that was not my problem. When I discovered that I needed to seek greener pastures abroad to add value to my career, I later moved out of the country to play in Portugal and Cyprus. My professional stint was not as easy as I thought but I managed to achieve something for myself
Players like  Haruna Ilerika, Yomi Peters, Wakilu Oyenuga, Peter Rufai, Abdul Sule, Abiodun Obafemi, Ike Shorunmu, James Tombiri, Ganiyu Ajide, Olumide Banjo, Audu Ibrahim, Richmond Gbontir, Tarila Okorowanta, Arthur Moses, Yisa Alabi, Benjamin James, Godwin Obinyan, Collins Ebitimi, Taiwo Oloyode, and Peter Obanor etc also made their impacts felt at the club.
I can never forget my relationship with coach Kashimawo Laloko and the late Austin Ofoukwu, for his gentility on and off the pitch. He was a very good, caring and loving coach.
Stores' national league match against Iwuanyanwu Nationale in 1987 still remains the most memorable match in my career. I scored the only goal of the match to give Stores the three maximum points.
Any regrets?:
The only regret I had and I'm still nursing is my inability to play at the highest level of my career in the 1994 FIFA World Cup. I was doing very well in Cyprus and suddenly, I was injured and the injury kept me out of the national team forever. I was not myself throughout that year because I knew I was supposed to play in that team. It was a shattered dream and I never recovered from the shock.
A knee injury I had in Europe in 1995 eventually led to my retirement, as I was forced to quit the game due to the injury.
Encouraging his children:
None of my children is into football. I tried all I could to encourage them to toe my path but they refused. None showed interest in the game. It is unfortunate that I cannot force them against their will. I had to close that chapter.
Remember Ogedegbe and Raymond King:
There are two goalkeepers I can not forget. The late Best Ogedegbe and Ramoni Oba popularly called Raymond King. Both keepers had paid their dues before their death. They made great impacts for their respective clubs and country.
Ogedegbe was in goal for the IICC Shooting Stars in 1976 when they made history as the first Nigerian club side to win a continental trophy by beating Tonnerre Kalala of Cameroon at the final of the African Winners Cup. The late Ogedegbe also manned the goal post for Nigeria's senior national soccer team, then known as the Green Eagles, when they won the African Cup of Nations for the first time in 1980.
King played school football across the south-west states and was among the Flying Eagles squad of the 1979/80. He made his name playing for the Shooting Stars of Ibadan and was in goal during the 1984 CAF African Cup of Champions where his team finished as runners-up to Zamalek of Egypt. King later left Shooting Stars and joined the defunct Abiola Babes of Abeokuta with whom he won the 1987 FA Cup title.
Cherish Leon Balogun:
Balogun is one of the most intelligent defenders I have seen among Nigerian players. His positioning and ability to read and avert danger are wonderful. He has been coping very well with English football since he moved from Germany.
Brighton and Hove Albions will appreciate him better and as a former striker, I see him as a good potential in Super Eagles defence.
Effects of coronavirus:
Apart from paralysing sports generally across the world, coronavirus pandemic has had far-reaching consequences beyond the spread of the disease and efforts to contain it. Now that the pandemic has spread its tentacles around the globe, concerns have shifted from supply-side manufacturing issues to decreased business in the services sector.
Supply shortages are expected to affect a number of sectors due to panic buying, increased usage of goods to fight the pandemic, and disruption to factories and logistics. It has also led to hike in price of commodities, with many areas witnessing panic buying and consequent shortages of food and other essential grocery items, especially the technology industry. Somebody has described it as a third world war because it touches every human endeavour.
We pray that it should end now for the world to be at peace.
Business
People always like to know what I am doing for a living and I am not ashamed to say that I am into the automobile business. I sell cars of different choices. Any good car you can think of is available in my place around Ikeja.
read also:
read also:
Osimhen is future of Nigerian football – Ighalo
Goalscorer award controversy:
I will like to clear the air about the three awards I won from the national league. I actually won three awards within three years. In 1987 with Stationery Stores, 1988 with Rangers International and 1989 with Iwuanyanwu Nationale now (heartland) but lack of record by the Nigeria Football Association, (NFA) under the late Secretary-General, Patrick Okpomo, denied me the opportunity of getting the three awards the day they wanted to present it to me at Eko Le Meridien Hotel in Lagos.
These three legends of Sports journalism, Mr Paul Bassey, Mr Larry Izamoje(formerly Echiejile) and Abdulmumini Alao were at the ceremony that day because I went there with my facts but they later appealed to me to accept the two awards of 1987 and 1988 like that. So they were not two as widely reported. It wasn't anybody's fault but the NFA.