It was a misunderstanding – Sarri
After Arrizabalaga refused to be substituted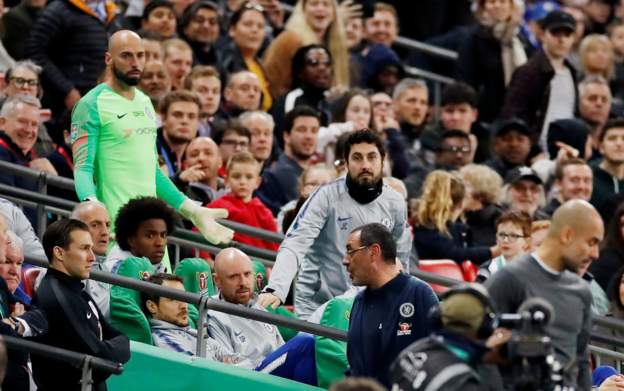 Chelsea manager Maurizio Sarri says that extraordinary stand-off with keeper Kepa Arrizabalaga was a "misunderstanding".
Sarri also says the Spaniard will not be disciplined by the club.
"I misunderstood the problem and only realised the situation when the doctor arrived at the bench.
"It was a big misunderstanding because I understood the keeper had cramp and was unable to go to the penalties. But it was not cramp and could go to the penalties."
On why he walked off towards the tunnel: "I needed to return to be quiet. He [Kepa] understood that I asked for a change for his physical problem and he said I haven't a physical problem. And he was right.
"I realised after when the doctor arrived. I have talked to him [Kepa] but only to clarify because now I have understand the situation."
Have you ever seen anything like it?
A player refusing to go off – and his manager losing the plot.
Chelsea goalkeeper Kepa Arrizabalaga resisted Maurizio Sarri's attempt to substitute him late in extra-time of the Carabao Cup final, which left his manager seething on the touchline.
Read Also: Man City win Carabao Cup on penalties