Kaduna International Polo: EL-Amin, Trappco, others eye Georgian Trophy
Caption: EL-Amin Patron, Mohammad Babangida receives the Georgian Trophy last year after leading his team to win the Kaduna polo Centenary tournament, as Kaduna Polo Club President, Suleiman Abubakar (middle) beams a congratulatory smile. The 100th edition of the Georgian Cup tournament gallops off today.
Five of Nigeria's biggest high-goal teams, EL-Amin, Trappco Ranch, Rubicon, Malcomines and Lintex, are bracing for another epic battle as the much-awaited 2019 Kaduna International Polo Tournament gallops off with fanfare this weekend in Kaduna.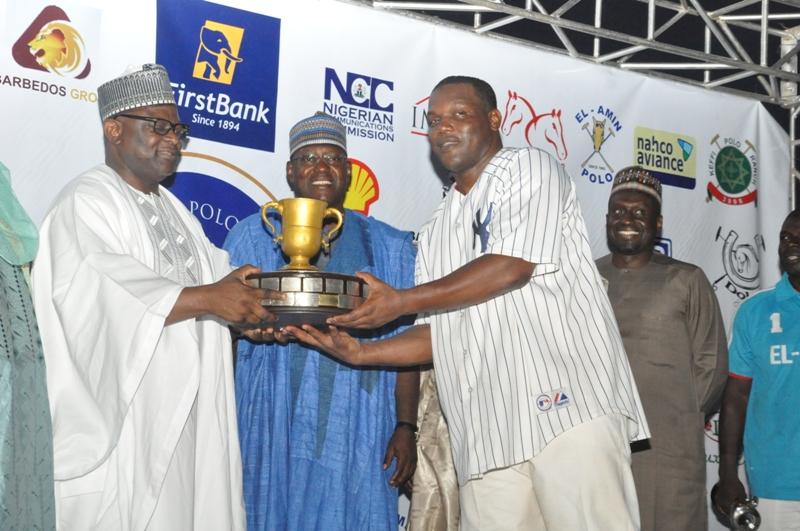 The grand festival scheduled from October 12 to October 20, is hosted to celebrate the centenary of the world's oldest and most revered polo trophies, the 400 years-old Georgian Cup that remains the event's biggest prize.
Made from the vintage Georgian Silver 400 years ago, the trophy was donated to the Nigerian Polo Association in 1919 by the then British Bank for West Africa now First Bank Plc and it has since been competed for annually by Nigerian high-goal teams for a century now.
President of Kaduna Polo Club, Suleiman Abubakar who disclosed this, stated that Kaduna polo extravaganza is waxing an added allures as a record 35 teams will battle for honours in four main cups categories.
Suleiman stated that apart from the five big guns jostling for the Georgian Cup, four teams would be chasing the Emir of Katsina Cup, while a record thirteen teams would be jostling for the Imani Cup.
It was also gathered that the event's low-goal prize, the EL-Amin that offers monetary rewards to the Most Valuable Player, would be the most contested, as another record 21 teams have confirmed their participation this year.
"We are humbled by the overwhelming support of our sponsors and individual partners over the decades, and we want to assured our esteem benefactors that their money would be put to the best use, for the promotion of the game of Kings in Kaduna and Nigeria as a whole."
" The tournament committee has gone the extra miles to build in some notable innovations that would deliver good value for money and time to our esteem sponsors, specials guests and the thousands of polo buffs and  tourists, who will be part of the grand festival"  Abubakar assures.
Read Also: 40 teams to feature as Kaduna Polo Club clocks 100 years
Polo Captain, Ibrahim Babangida confirmed that 40  teams would vie for honour in the week long polo fiesta that attract  participation from Lagos, Ibadan, Port Harcourt, Ibadan,  Minna, Abuja, Sokoto, Maiduguri, Katsina, Kano, Yola, Bauchi, Jos, Argungu,  Abuja and Zaria.