Kepa: No Intention to disrespect Sarri
It was a misunderstanding says Sarri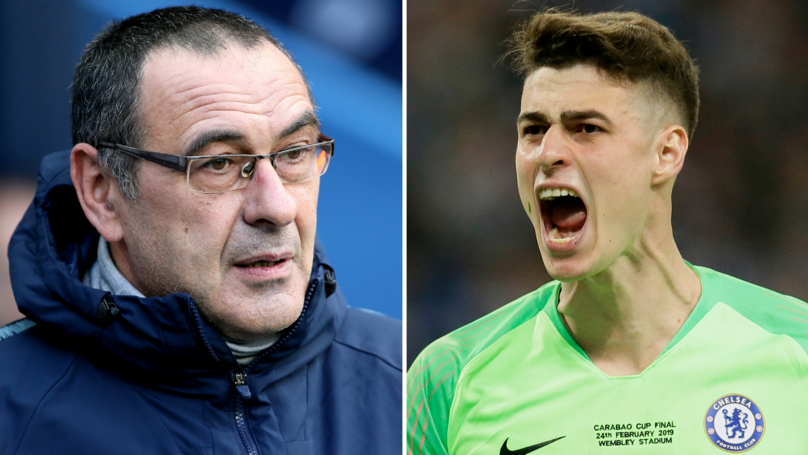 Chelsea goalkeeper Kepa Arrizabalaga insists his refusal to be substituted in the Carabao Cup final defeat to Manchester City was not a display of disrespect to manager Maurizio Sarri.
Sarri attempted to replace Kepa with reserve goalkeeper Willy Caballero ahead of the penalty shootout, with the Spain international appearing to suffer from cramp in the closing stages of Sunday's defeat at Wembley.
However, Kepa refused to leave the field – causing a lengthy delay to the match and prompting an angry reaction from Sarri, who stormed down the tunnel before returning to the touchline shortly afterwards.
Kepa played on but was able to save only one penalty in the shootout, asCity claimed a 4-3 win to retain the Cup.
The former Athletic Bilbao player, who became the most expensive goalkeeper in history when he joined Chelsea for £71.6m in August, insists his refusal to leave the field was not an act of insubordination against Sarri.
"I know if you see it from outside, I don't know how it went out, it is not the best image," Kepa said. "I have spoken with the boss. I think it was misunderstood.
"I understand that on television, on social media, they're talking about this but I am here to explain it, to say that it wasn't my intention to go against the manager.
"We have spoken now, and I was only trying to say I'm fine. He thought I wasn't fine. It was in tense moments, with a lot happening."
Kepa admits he was not seriously injured in the closing stages of the match and was attempting to buy time for his team-mates after a spell of pressure from Manchester City.
He said: "I thought the bench felt I couldn't continue, because it was the second time I'd gone to ground. It was extra-time.
Read Also: It was a misunderstanding says Sarri
"We'd run a lot so [going to ground] was also a way of stopping the match. We'd had a few moments suffering, defending, so it was to stop the match and for the team to draw breath and not a moment where I was saying I couldn't continue.
"I know everyone is talking a lot about this, but it's my opinion, how I lived it from inside."
Sarri played down the incident after the match, describing it as a "misunderstanding", and Kepa agrees with the Italian.
"In no moment was it my intention to disobey, or anything like that with the boss," Kepa added.
"Just that it was misunderstood, because I had been attended to by the medics twice, and he thought that I wasn't in condition to continue.
"It was two or three minutes of confusion until the medics got to the bench, and they explained everything well.
"This was nothing to do with the problems I had this week, with [hamstring] it wasn't that. And, well, it was misunderstood.
"Because he thought I couldn't continue, and – fundamentally – I was trying to say that physically I was fine."