It was a glamorous entry Argentina legend Diego Maradona as he arrived Belarus following his recent acceptance of the job of chairman of Dinamo Brest football club.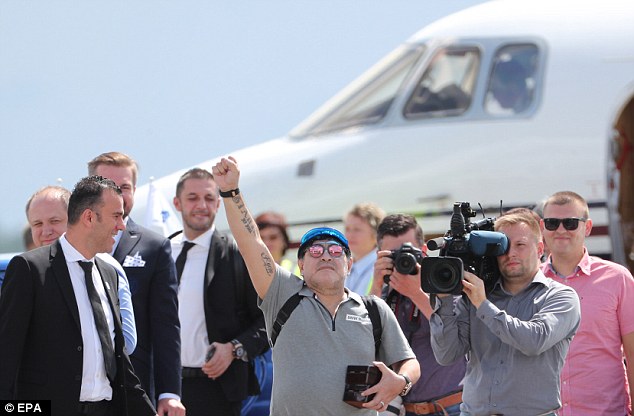 The 57-year-old signed a three-year deal with the club and has now taken up the role after the conclusion of the Russia World Cup.
Maradona was ferried from his plane in a gleaming blue Mercedes, while large crowds eagerly anticipating his arrival gathered outside the terminal.
The main man wound down his window upon approach so that he could signal to the masses.
Once the vehicle pulled up, Maradona made a big scene of stepping outside and crouching down so as to touch the land of Belarus for the first time with his right hand.
Maradona left his position as coach of Al Fujairah last month after missing out on automatic promotion from the United Arab Emirates' second division.
The tenure stood as the second managerial spell of Maradona in the UAE, after spending a year in charge of Al-Wasl.
The former Barcelona and Napoli forward also managed the Argentina national team from 2008 to 2010.
Maradona made many headlines during the World Cup, with his questionable antics in the crowd during his nation's fixtures.
The national icon was present as his team struggled in Russia, with Lionel Messi and Co unable to get past the round of 16.
Maradona was at the centre of attention during his side's late victory over Nigeria after signaling inappropriate hand gestures at opposition fans before he was checked by medical staff following the final whistle.