Mayweather's private jet where even uniform says 50-0!
Floyd Mayweather has never been shy to show off the fruits of his labour — and now the unbeaten former fighter has given fans another amazing glimpse into his glamorous lifestyle.
Mayweather hung up his gloves after stopping UFC superstar Conor McGregor in their historic cross-over clash last August.
The Las Vegas showdown was the final victorious chapter in a money-spinning career that saw him become the highest-paid fighter in the sport's history.
Mayweather claims he had made more than $800million from boxing before pocketing another nine-figure payday against McGregor.
The American has used his vast fortune to build up an incredible catalogue of houses, cars and he even has his own personal jet.
'What's up everybody this is how you valet a jet,' he told his followers in a video on his Instagram story on Sunday night.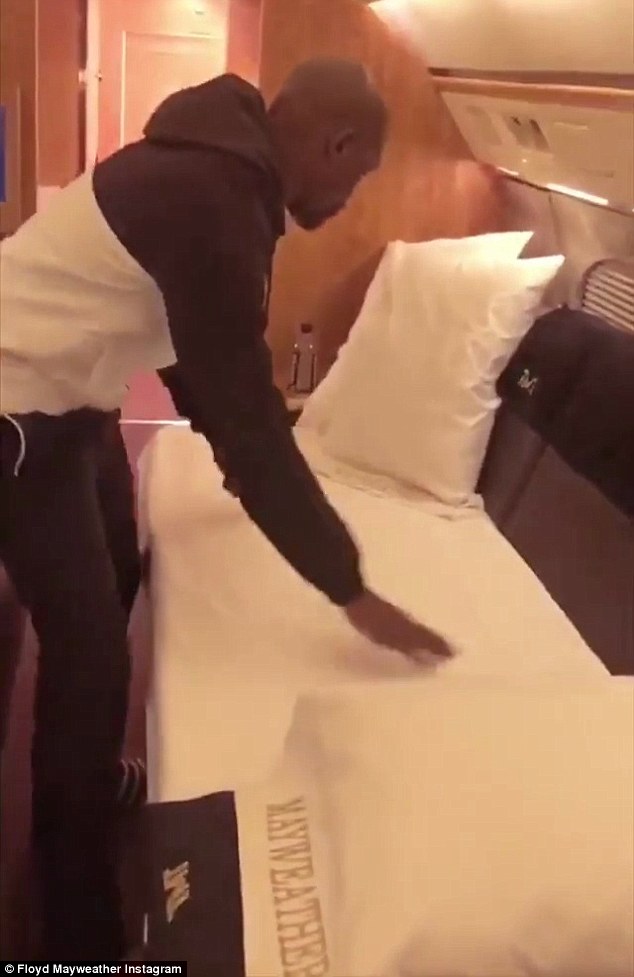 In the clip Mayweather showed off 'AirMayweather', which he features a TBE ('The Best Ever') doormat, personalised bedsheets and his TMT ('The Money Team') logo branded on the outside
The pilot's uniform even has '50-0′ sewn into the sleeve, referring to Mayweather's perfect professional record.
That could soon become 51, however, with McGregor and Mayweather apparently in talks over another lucrative clash.
The 41-year old now works as a promoter and owns a Las Vegas strip club, Girl Collection. But his father, Floyd Snr, hinted that he and McGregor could soon renew their rivalry in the ring.
'It's sounding like him and Conor McGregor are going to fight,' he told Helen Yee.
'I don't know for sure… it sounds like (Floyd's) going to fight again, and Conor McGregor, he wants to fight again. Even though he don't want to fight again, but he'll fight again just to show his people what he can do — which is nothing!'