Mfon Udoh remains Enyimba player insist Anyansi Agwu
Chairman of Confederation cup campaigners Enyimba Felix Anyansi  Agwu, has dismissed report in some quarters that the team's forward Mfon Udoh has left the club.
The Aba based side due in Kigali Friday ahead of their Confederation cup clash against Rayon Sports of Rwanda at the Nyamirambo Stadium on Sunday, insisted that the former Akwa United ace remains a player of the Peoples Elephant, revealing however that he is currently on an indefinite suspension for what the club dubbed  serious misconduct and disregard for established  authority.
Taking to the social media, the Sidi-Usman Abd'Allah tutored side "Our attention has been drawn to news making the rounds that Mfon Udoh has quit our club. There is no truth to this as the player was suspended last week for misconduct and indiscipline. He was suspended along with other players but details were not released to the public"
Also attached to the statement released on Friday was a letter dated 7th September 2018, titled "Indefinite suspension
For Gross Misconduct and Indiscipline" signed by club Chairman Felix Anyansi Agwu.
Ironically while Enyimba insists that he is still in the club, a peep into his profile on Wikipaedia however reveal that he has been listed as free agent under 'current team sub-heading'.
Mfon who joined Enyimba in 2013, has so far 76 appearances for the two time champions league champions scoring 39 goals.  He was particularly impressive in the qualifying games 2016 CAF Champions league scoring a brace against Vipers FC of Uganda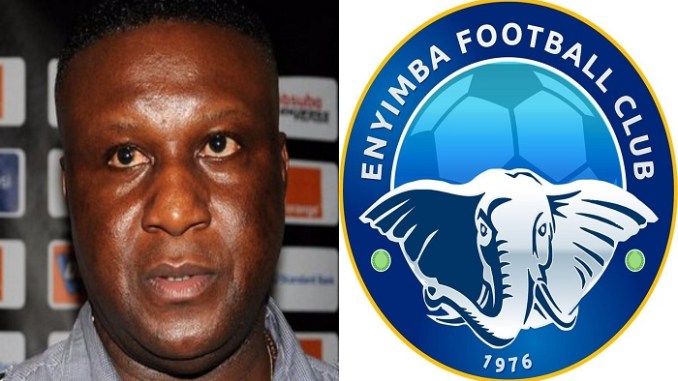 He scored another brace in the next round of the competition against Vital'o FC in a 5-1 home victory in Aba. In the final qualifying round, Udoh netted a hat-trick in the first leg against Etoile du Sahel for a convincing 3-0 win at home.
His exploits in the CAF champions effort despite the club eventual elimination, led to his nomination for the award of CAF African footballer of the year at the end of 2016.
Meanwhile Algeria's Mustapha Ghorbal will be in charge of the Rayon Sports versus Enyimba clash on Sunday.
The 36 year old who has dished out five red cards between March and August this year, will be assisted by compatriots Abdelhak Etchialiand Mokrane Gourari respectively.
Return leg of the Rayon Sports clash will take place at the newly renovated Aba Township Stadium on September 23rd.