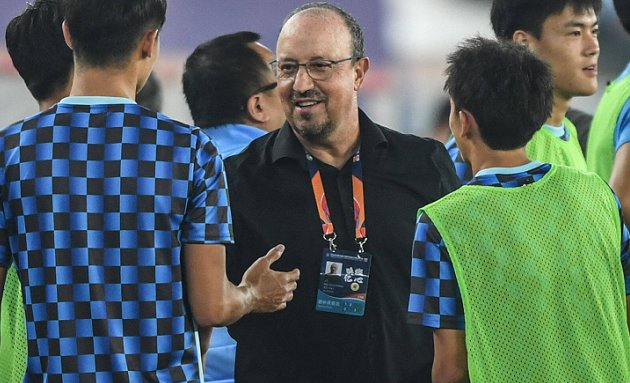 Rafa Benitez best option Everton could get, says Nevin
Everton legend, Pat Nevin, has revealed the club could not get a better manager than Rafa Benitez.
Fans are still divided over Benitez despite an opening day victory over Southampton.
The Spaniard was once manager of arch rivals Liverpool, winning the Champions League for the Anfield club in 2005.
Tension was high at Goodison Park for Benitez's first competitive game against Saints.
Benitez made his influence clear as the Toffees fought back from a 1-0 half-time deficit to win 3-1, and Nevin thinks the 61-year-old is perfect for his former club.
"I don't think they could get a better manager than Rafa Benetiz, I know some Everton fans won't like me for saying that, but it's true," said Nevin to TribalFootball.com, on behalf of British Gambler.
read also:Atletico Madrid agree €15million Rafa Mir deal with Wolves
When he came to Chelsea, he was despised by the fans, but by the time he left he turned them around and the word used most by those supporters about him was 'respected'.
"I think he's capable of doing at that Everton as well."
What was evident at Goodison on Saturday was Benitez wants Everton to play direct in attack.
With Richarlison and Dominic Calvert-Lewin leading the line, Benitez has dipped into the transfer market this summer to bolster his supply of wingers.
Andros Townsend was signed on a free transfer after his release from Crystal Palace, while former Leicester City man Demarai Gray was brought in from Bayer Leverkusen.
Both players featured against Southampton, and Nevin thinks they are good additions to Benitez's squad.
"Andros Townsend will always do you a good job like Iwobi has done," Nevin added.
"Richarlison and James Rodriquez are a massive jump up, but they can't do it every week which was Everton's problem.
"They had a good enough starting XI to be up in the top six and top four in their best form, but once they had to make a few changes they were a long way short.
"When you look at someone like Demarai Gray, he can come in for Richarlison or play elsewhere.
"Townsend can cover that right hand side and Moise Kean as a back up to Calvert-Lewin, you start to look at Everton as a good team.
"You can afford to bring other players in when dealing with injuries or even a loss of form throughout the season.
"All the way through the pitch they have a lot of quality, but they were missing that strength in depth, and I think Andros can do that job but Gray can do an even better job."