S/Falcons Gets Boost for Round of 16 after Scotland Exit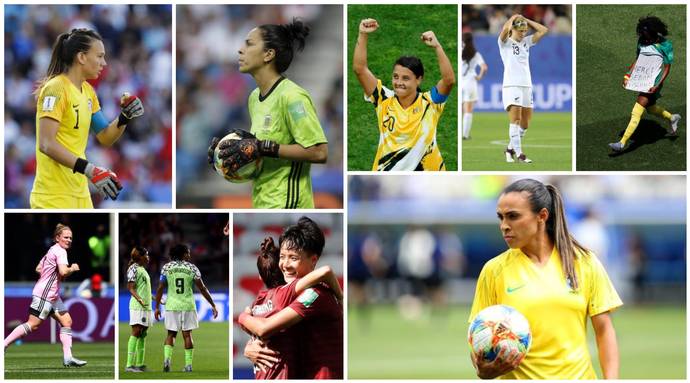 Super Falcons of Nigeria's slim hope of qualifying for the round of 16 as one of the four best third-place finishers has come alive as Scotland got knocked out by Argentina in a six goal thriller on Wednesday night.
Florencia Bonsegundo converted a re-taken penalty in stoppage time as Argentina came from three goals down to draw 3-3 with Scotland, a result that eliminated the Scots and kept alive the South Americans' slim hopes of advancing in the Women's World Cup.
The Nigeria's representative just as Argentine will have to wait or the conclusion of today's matches in Groups E and F to learn their fate.
Argentina have two points and can only advance as one of the four best third-place finishers if the games between Cameroon and New Zealand in Group E and Chile and Thailand in Group F both end in draws.
GROUP SCENARIOS
Group A: France and Norway are already through to the last-16. South Korea has been eliminated after its loss to Norway on Monday. Nigeria will have to wait with bated breath to see how the other group results turn out for a chance to make it to the knockouts. Nigeria has three points with a goal difference of -2. It has managed to score 2 goals.
Group B: Germany and Spain – the top-two teams in this group – have automatically qualified. China has qualified as one of the best third-place teams, courtesy of four points from the group stages and a decent goal difference. South Africa bowed out of the tournament after a 4-0 thumping at the hands of Germany.
Group C:  Italy, Australia and Brazil are all through to the round of 16 with six points each.
Group D: England topped with nine points with Japan finishing in second place with four points.
However, there are loopholes to this algorithm, even if Scotland wins. If all of the following possibilities take form, Scotland is in trouble if:
China vs Spain ends in a draw
UPDATE: The tie between China and Spain ended in a goalless draw.
Brazil, Australia, Nigeria and Norway win their games:
UPDATE: Norway finished with a win against Korea, while Nigeria lost to France. Brazil managed a victory against Italy and Australia thumped Jamaica in their final group games.
Argentina has a slim chance of staying in this tournament, if the Cameroon vs New Zealand and Chile vs Thailand end in draws.
Group E: Canada and the Netherlands are through to the last-16. Cameroon and New Zealand need a win to advance and will hope the other third-place contenders fall short in their respective pursuits. If Cameroon or New Zealand win by 2 goals, then the winner makes it through. That will take Argentina out of the running.
Group F: Defending champion USA and Sweden are both through to the knockouts. Thailand stares at a goal difference of -18 which it needs to nullify, and improve on, to have a chance to scrape through. Luck favours Chile here if it can manage a win over Thailand when the two face off today.
A knockout qualification is only half the job done as the third-place teams usually face group leaders in the knockouts. In 2015, none of the third-spot sides managed to progress to the business end of the tournament. One will have to wait and see if 2019 follows suit.