Serie A giants reveal plans for new €1 billion stadium
AC Milan and Inter have revealed two plans for the new San Siro stadium, which would see a big change to the stadium and the surrounding areas.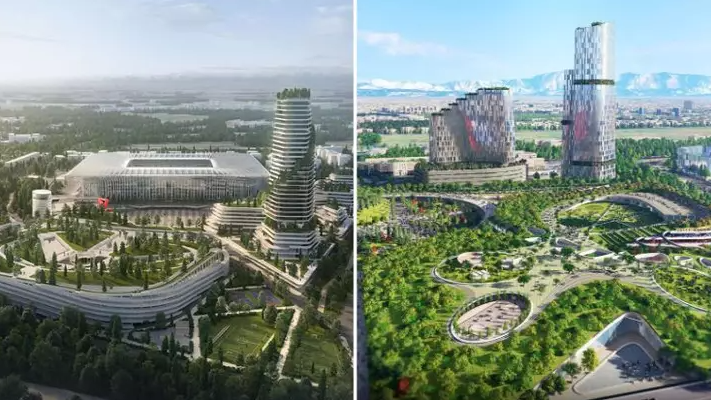 The two clubs have shared the San Siro since 1947, with Inter having previously played at Arena Civica before Milan sold the Stadio Giuseppe Meazza back to the city, and its last big renovation took place before the 1990 World Cup.
In 2015 it looked like Milan would part ways from their local rivals and build their own new stadium but now both clubs look set to stay at the site of their iconic ground and have revealed two plans.
In a joint statement the clubs said, "The two new proposals are the result of a constructive dialogue with the Municipality and have been developed in accordance with the 16 conditions provided by the Municipality and the City Council in November 2019.
"The new concepts designed by Populous and Manica/Sportium provide for the retention of a part of the current Giuseppe Meazza Stadium within a new retail and sports district that can be used 365 days a year, including about 106,000 square metres of green space (nearly double the current 56,000 square metres of green space on the current site).
"It will be a hub dedicated to retail, sports, cultural and leisure activities both outdoors and indoors, including a running track, a cycle path, an outdoor gym, a skateboard park, a five-a-side pitch and sports museum: most of the sports services will be available free of charge to the Milanese and citizens of the surrounding areas.
"Both concepts would deliver an innovative district dedicated to the next generation, cutting edge for its low environmental impact and high sustainability, creating a new meeting place for social and recreational activities in the neighbourhood.
"FC Internazionale Milano and AC Milan believe it is essential, especially in light of the current moment, to commence a project that represents more than one billion euros of private investment, which will generate thousands of new jobs and serve as a cornerstone for the future development of the city of Milan and Italian football."
The new stadium will be built on the site of the current ground's car park, which will allow games to continue in the current ground whilst it is being built.
The two clubs have long been thought of as European football's sleeping giants but Inter had been challenging for the Serie A title this season, before their form dropped off in 2020.
Milan are still struggling and are three points short of qualifying for next season's Europa League and 12 points outside the top four.