Solskjaer lauds 'exceptional' Man Utd performance
Ole Gunnar Solskjaer praised his players' "confidence and quality" after goals from Mason Greenwood and Bruno Fernandes' double made it a memorable evening on the south coast for Manchester United, who ran out 3-0 winners over Brighton & Hove Albion.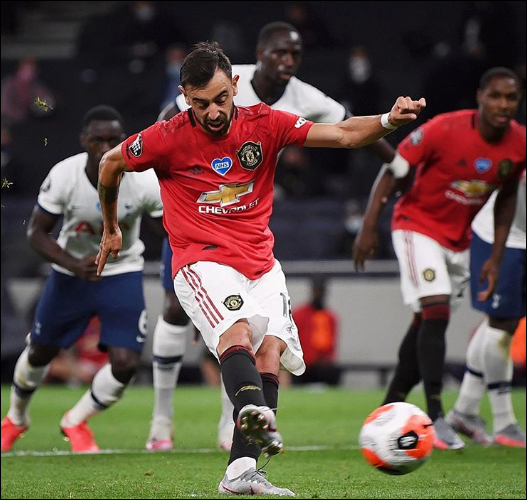 Greenwood fired home brilliantly on 16 minutes, before Fernandes, our Man of the Match, netted in each half. The second of the Portuguese's strikes came from a sublime team counter-attack, which ended with Bruno volleying home emphatically.
Here's what Ole had to say to MUTV, Sky Sports and reporters during his pre-match press conference as he reflected on an enjoyable night and another vital three points…
"Oh, I rate this performance highly. Fantastic from the word go. The boys were full of confidence and quality. We played some exceptional stuff. It's always hard to play against Brighton, Graham's teams keep the ball well, but I thought we pressed them well from the front – Anthony, Marcus, Mason, Bruno showed intensity and the intent. We spoke about intent before the game, on and off the ball, and when we had it, we tried to create and we did create with some fantastic goals."
"The players are fit. We did have a meeting, just before the lockdown, about making this work our way and we promised each other that we were all going to come back in really fit and ready to go because we know we have loads to play for. And I think it's been proven right. They've done their work and we've got a big squad. Of course it's nice to be able to rotate but Bruno [played] 120 minutes, Luke 120 minutes and Harry 120 minutes the other day and perform as well as they did, fantastic."
"I knew there was a leader there, a winner and we knew we needed that type of player. Fair play and well done to the club for making the deal happen. It was hard because of course you [Sporting Lisbon] don't want to sell your best player and he's come in and been fantastic. His second goal was good defending on a set-play and we know we've got pace and we wanted to counter quickly. It was a great pass by Nemanja, a great cross from Mason and fantastically finished by Bruno so I'm very, very happy with all the goals."
"He played fantastically. He's a special kid and we know that when he gets his face up and looks forward that he's dangerous, but his hold-up play, general play and link-up play was great. I'd have been proud of that goal. He has a knack of that, he can go inside and outside, and he's just as good with his right foot as he is with his left. He's developing into a fine player and he's a special finisher, a special kid in and around the box and he's one of the better ones I've seen to be fair."
"You can see with the quality and talent we've got going forward that we have a foundation to play from, with a good shape and with good pressing. We press high and also with a back four that's used to each other and David [De Gea] made two tremendous saves, so there's load of reasons behind the clean sheets but that's always the foundation in any team to be honest. You have to have a shape to start from and the intensity in our defensive work was great. We know that we're eleven men attacking and eleven men defending. We defend from the front."
read also:Premier League: Fernandes double fires Man Utd masterclass
"I think it's very important that you have players who chip in. Of course Marcus and Anthony have got the majority of the goals – 19 each this year – but Bruno's come in and done fantastic, Mason's always chipping in with goals and we know Paul's going to get some goals. I thought Scottie [McTominay] was close today, Dan [James] was close too and Odion's come in and done well. It's important, we've never had just one although to be fair Ruud [van Nistelrooy] scored 50, 60 goals and Cristiano [Ronaldo], but we've always had players who can win a game for us."
"I don't care about [sending] any statements. I know we're a good team. We were focused on this game and now we look to the next one against Bournemouth on Saturday and we need to recover."