Southampton wins appeal against Bednarek straight red
Southampton have succeeded in their appeal against Jan Bednarek's suspension following his contentious red card in Tuesday night's 9-0 defeat to Manchester United.
The defender was shown a straight red card for fouling Anthony Martial in the penalty area following a VAR review that involved match referee Mike Dean watching several replays.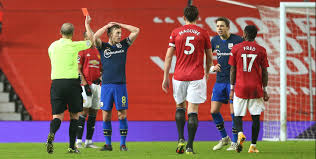 Southampton appealed to the Football Association, who have upheld their claim of wrongful dismissal, meaning Bednarek will be available for their upcoming games, including Saturday's trip to Newcastle United.
That decision, plus others during their defeats to Aston Villa last Saturday and United on Tuesday, led to Southampton making the extraordinary request that Dean and Lee Mason aren't allowed to officiate their games in the near future.
A statement by the FA read: 'Jan Bednarek will be available for Southampton FC's next fixture after an independent Regulatory Commission upheld a claim of wrongful dismissal and removed his suspension.
Read AlsoMikel Obi bags yellow in Stoke draw
'The defender was sent off for denying an obvious goal scoring opportunity during a Premier League fixture against Manchester United FC on Tuesday [02/02/21].