Feeling excited and happy on his latest victory, current U-21 champion Matti Taiwo has said that his next step is on how to become the new World Champion and Nigeria champion.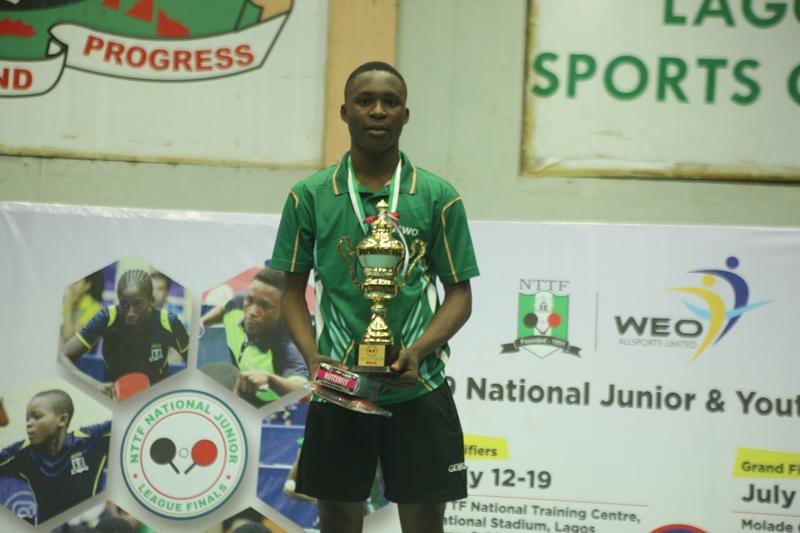 Matti defeated Omeh Amadi to come out top in the youth men's single event at the just concluded NTTF National junior and youth league at the Molade Okoya-Thomas Hall of Teslim Balogun Stadium in Lagos.
Matti carted home sum of N80,000 after proving his worth in a 3-2 (5-11, 11-8, 10-12, 11-6, 14-12) victory against his opponent while his counterpart took home N40,000 to emerge second in the U-21 men's singles event.
An excited Matti said: "I feel very happy and also surprised because I never thought I could win the game.
"My opponent was leading me 12-11 then I took a point which was an edge but he insisted that it wasn't an edge then later the referee said it was an edge, so that made me win the competition.
"I have been training so hard for this competition and also I have been looking forward to winning because a lot of people said I will be the one to win the championship. My next step is to become the World champion and also Nigerian champion.
He went ahead to applaud the organizers especially the Nigeria Table Tennis Federation (NTTF) for staging such a tournament.
"Firstly I need to say very big thank you to the Nigeria Table Tennis Federation (NTTF) for giving us this kind of opportunity to take part in such tournament and I think the competition will help we youths and junior players to improve in our game.
Read Also: NTTF dangles N1m on National Junior League
The youngster will then join the boys' team alongside Tunisia's Habib Ameur, Egypt's Mohamed Sameh and Algeria's Abderrahmane Azzala for the World Cadet Challenge (WCC) holding in Poland on October 2019.