Tokyo Olympics: FIFA raises age limit for men's football to 24
fifa adjusts age limit for Olympics football
FIFA has raised the age limit to 24 for the men's football tournament at next summer's rearranged Olympics.
The tournament is usually for under-23s, but the governing body has made the change to allow players who were eligible for the Tokyo Games this summer to still take part next year.
Any player born on or after January 1, 1997 will be able to play, plus the three allocated over-aged players.
The men's tournament will kick off before the July 23, 2021 opening ceremony in Tokyo, while the women's event has no age limit.
FIFA has also called off all men's and women's national team games set to be played in June 2020 as the coronavirus pandemic still grips the world.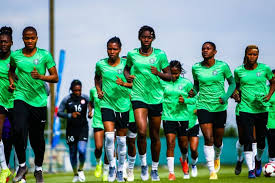 The governing body had previously announced that it would not be compulsory for clubs to release players for those games, but now they have been wiped off the calendar.
A dedicated Covid-19 working group made the decisions at their first meeting, as well as postponing the Under-20s Women's World Cup in Panama and Costa Rica and the Under-17s Women's World Cup in India.
The 2020 Olympics originally billed for this year has been shifted to next year due to the rampaging effect of the coronavirus even as the world continues to look for a cure for the pandemic.
When eventually the Olympics takes the centre stage Nigeria will be a spectator in both the male and female football event as she failed to pick a ticket for the event.  Both the Super Falcons and the Olympic Eagles were booted out in the qualifiers.
Dream Team failed to make it after finishing third in their group in U-23 AFCON in Egypt. The Super Falcons on their part lost to their Ivorian counterparts in their two legged affair.
The Christopher Danjuma tutored side had played a goalless draw in Abidjan and were expected to make mince of their opponents in the second leg at the Agege Stadium but that was not to be as they were held to a 1-1 draw thus kissing the ticket to Tokyo bye.