Undefeated middleweight prospect Israel Adesanya (16-0) defeated the all-time great Anderson Silva via unanimous decision in the main event of the UFC 234 inside Rod Laver Arena on Saturday night. All three judges awarded the three-round fight to Adesanya: 30-27, 30-27 and 29-28.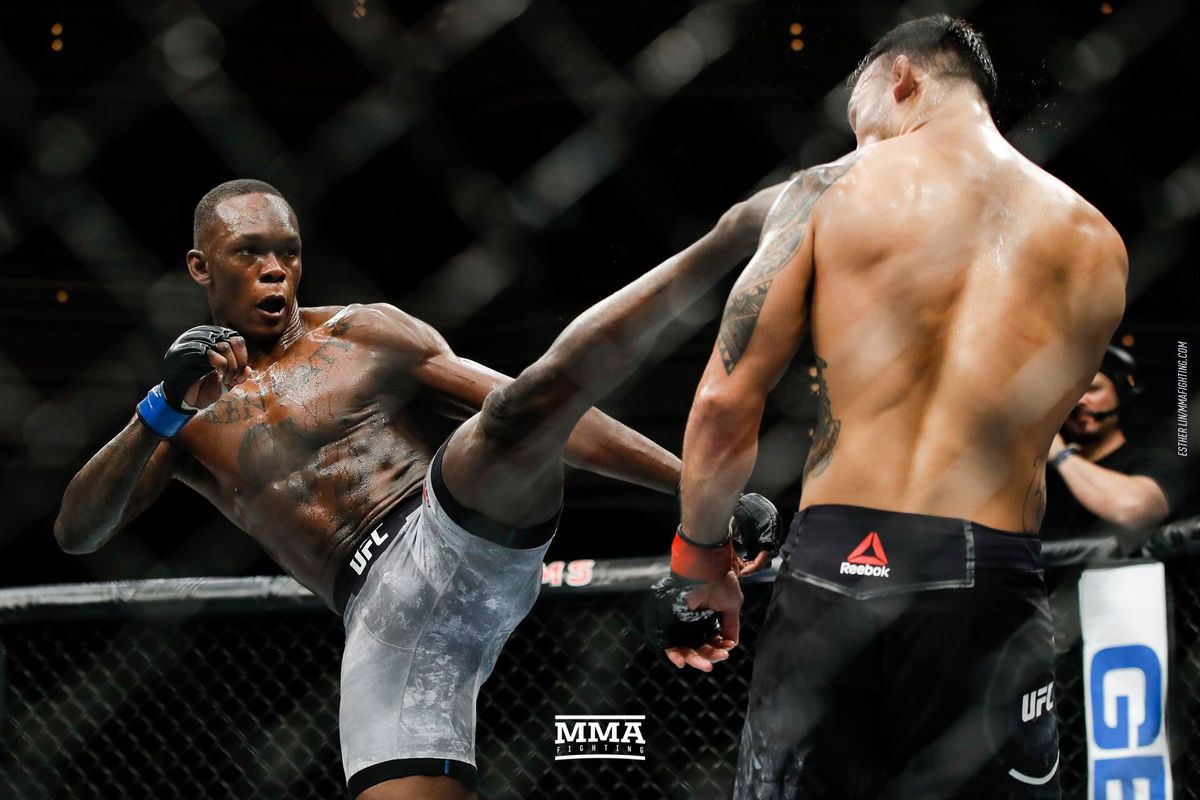 Silva's fight with Adesanya was bumped up to the main event earlier in the day when the originally scheduled bout between middleweight champ Robert Whittaker and challenger Kelvin Gastelum was canceled when the champion suffered a hernia.
Put into the main-event spot, the duo dazzled in a bout filled with flashy strikes, head games, and near knockouts that barely missed.
And while Silva had more than his fair share of moments, Adesanya is the one in his prime. And that showed as the bout wore on.
Adesanya was faster, had more gas in the tank, and simply landed the bigger shots as he went on to a unanimous decision victory
"This is crazy," Adesanya (16-0) said. "This is like for a kid just to play, if I'm playing basketball ,to play Michael Jordan this is it for me, I don't do EA Sports this is for real."
Adesanya made it clear early on he was going to go for the left high kick. The setup was obvious enough that Silva stayed in place and simply moved his head backwards when the blows arrived.
Silva also did some of his old-school, hands down approach to standing in the pocket, and he ate a few more punches than he probably should have because of it. Adesanya, for his part, had a fine moment in the firs when he faked a knee and then connected on a wicked short right to the jaw.
The former champ upped the ante on his taunting and unorthodox arm gestures in the second round. But he also showed dangerous rushes forward in which he connected with right hands that landed clean, and he managed to get in a nice sequence of dirty boxing, from which Adesanya, fortunately for his sake, escaped.
After the bout, both competitors bowed to one another, with Adesanya reduced to tears.
"I'm very happy guys," Silva said after his first fight in two years. "Thank you God for giving me one more chance to coming here. I love my job, this game is tough, amazing guys are stronger and fast, but you know this is my heart, this is my life I continue."
Adesanya is now 5-0 in a year with the UFC. Silva (34-9, 1 NC) has now lost three of his past four.