Wilder Wants Fans to Call Out Joshua to Fight Him
Wilder will face Fury on February 22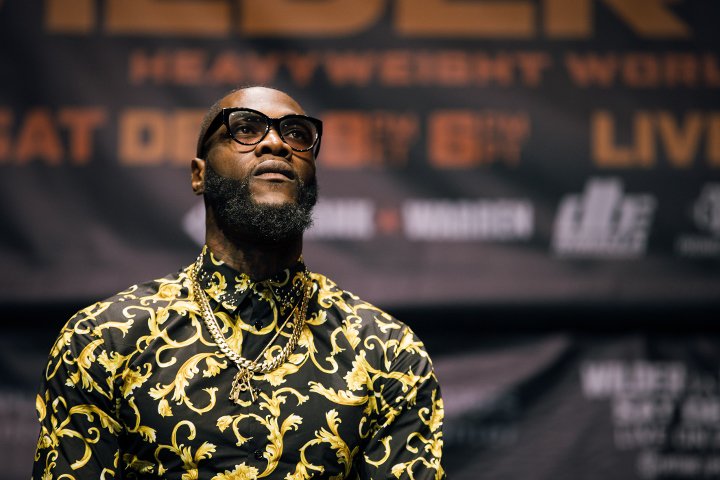 WBC heavyweight champion Deontay Wilder has a good feeling that a unification with IBF, IBO, WBA, WBO champion Anthony Joshua will eventually happen.
Wilder (40-0, 39 KOs) will first have to contend with unbeaten challenger Tyson Fury (27-0, 19 KOs).
The bout with Fury takes place on December 1 at Staples Center in Los Angeles.
Joshua, who last month knocked out Alexander Povetkin at Wembley Stadium in London, will return to the same venue on April 13.
The winner of Wilder vs. Fury will be a leading candidate, at least with the fans, to fight Joshua on the April date.
But many view Dillian Whyte, who shares the same promoter as the unified champ, as the frontrunner for the contest.
Wilder is not losing hope for the future.
"At some point in time, it's going to happen," Wilder said. "And when it happens, I'm going to reflect on all the stuff that I've been through. I'm going to reflect on how many tireless times my whole team stayed up. Shelly is like 84. Shelly couldn't sleep, was up two hours, three hours – he's too old to be up that late. But boxing is an emotional sport and we've done everything to make that fight happen. I want people to know.
"If people want that fight, it's going to be up to you guys to make that happen. You already know what you've got to do. Make it happen. The fans have got the control. My title says the heavyweight champion of the world, so with that being said, I want to travel the world.
"I can't wait to come over and fight again. We are just waiting on the appropriate time. That's never not an option for us, we don't care about where he is, just let it be right. Let's make it right, give the fans what they want, and that's what I'm about. I want to give you guys what you want to see."