Aruna Quadri retains ITTF Challenge Plus Nigeria Open
Winner of the 2019 ITTF Challenge Plus Nigeria Open, Aruna Quadri (centre); with Senator Opeyemi Bamidele and Executive Chairman, Lagos State Sports Commission (LSSC), Dr Kweku Tandoh and Direcotr, Baba Ijebu Trade Mark, Mr Adebisi Adebutu at the final of the Nigeria Open in lagos.
Amidst cheers from Lagos fans, Aruna Quadri lived up to expectations to retain his men's singles title at the ITTF Challenge Plus Nigeria Open.
From the start of the encounter against Austria's Robert Gardos, Quadri was in control of the tie with his superb shot which most times thrilled the fans.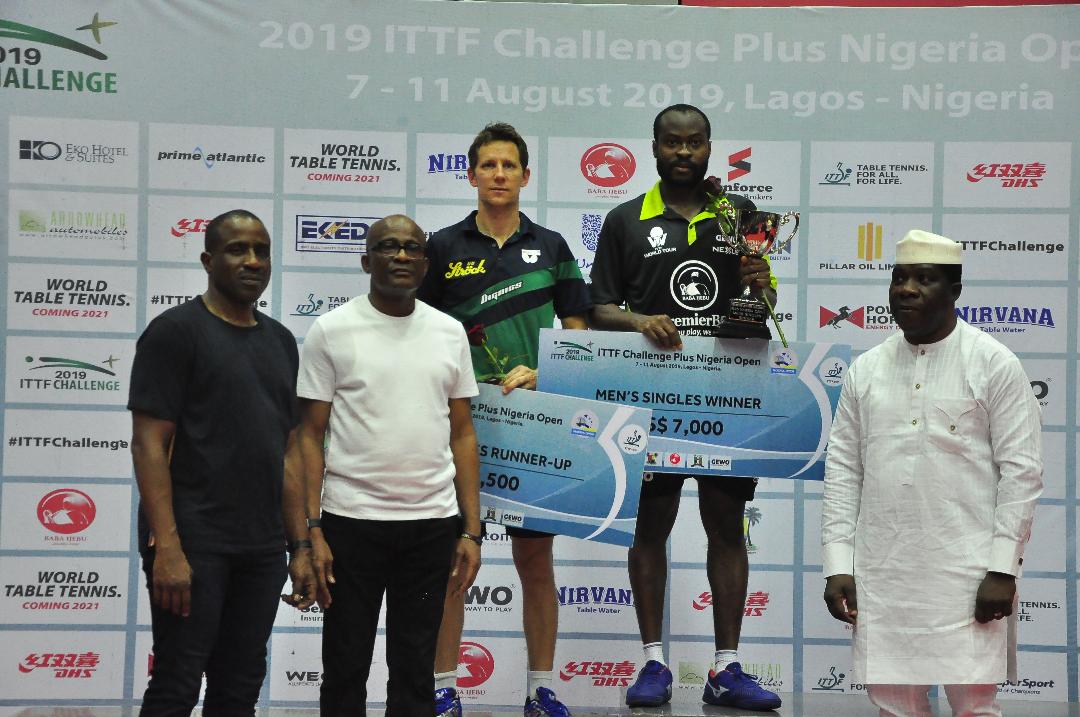 Russia's Polina Mikhailova won the women's singles title.
Success for Quadri Aruna meant he retained the crown, for Polina Mikhailova she concluded matters the most successful player in the tournament; earlier in the day she had partnered colleague Yana Noskova to women's doubles gold.
Delight for the host nation but there was also disappointment, Olajide Omotayo and Segun Toriola had to settle for silver in the men's doubles event. However, at the end of the day there was plenty of reason for the local fans to stand and cheer; smiling faces prevailed.
Quadri who is tournament's top seed, beat Austria's Robert Gardos, the no.4 seed in the final (15-13, 11-3, 8-11, 11-6, 10-12, 11-1).
Prior to the final, Quadri ended the adventures of qualifier, India's Soumyajit Ghosh (11-8, 11-5, 11-4, 8-11, 11-4); Gardos beat Belgium's Cédric Nuytinck, the no.2 seed (11-3, 7-11, 8-11, 15-13, 13-11, 11-9).
With this, this means Quadri claimed his third career Challenge Series title; in addition to winning last year in Lagos, in 2017 he succeeded in Poland.
In the women's Singles,  Mikhailova, the no.2 seed, recovered from a three games to nil deficit to beat Russian colleague, Yana Noskova, the no.4 seed, at the final hurdle (6-11, 6-11, 6-11, 11-8, 11-3, 15-13, 15-13). At the semi-final stage Polina Mikhailova overcame Indian qualifier, Sreeja Akula (11-6, 12-10, 9-11, 11-7, 11-9), Yana Noskova accounted for Italy's Deborah Vivarelli, the no.7 seed (12-10, 11-4, 7-11, 5-11, 11-8, 11-9).
It was for Polina Mikhailova her second career win at an ITTF Challenge tournament in six women's singles finals; the one prior success was in 2012 in Belarus.