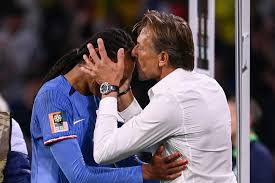 Behold my Renard, My Captain in whom I am pleased!
Hervé Renard, full name Hervé Jean-Marie Roger Renard and Wendie Renard full name Wendie Thérèse Renard are not related, except that one is the Coach of the France Women national team otherwise called Les Bleues or The Blues and the other is Captain of the team participating in the ongoing Women World cup in Australia and New Zealand.
One thing common with the two is that they are not only passionate about football but indeed passionate about winning in other words achieving results.
The passion and determination is not difficult to see especially during matches. While Windie Renard plays on the pitch throwing everything into it as if her life depends on it, Hearve Renard barks orders on the sidelines appearing most times in his perennial white shirt.
Generals and their lieutenants, lead at the war front and hope to achieve result and win the war, just as Captains lead their teams and expect to emerge victorious.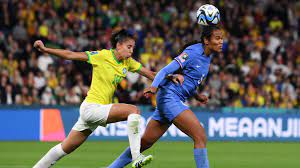 Nothing gladdens the heart of the coach than when a Captain and any player for that matter steps into the pitch and delivers exactly what is expected.
That was what happened when 2019 hosts France took on Brazil in their second group match on Saturday July 29th, 2023.
The match itself lived up to expectation as analysts had predicted that it would with enough fireworks to last the distance. With the score line at 1-1, it was Wendie Renard that struck when it was needed most; delivering a killer header that gave Brazil no chance of recovering. It was a sweet move and her teammates and coaching crew could not have jubilated better.
Coach Heave Renard was overwhelmed with joy planted a kiss on his captain's head in appreciation. What a way to win against a veteran and equally determined team like Brazil.
France lead the group with four points followed by Jamaica equally on four points after winning their first ever world cup game and then Brazil in the third place with three points ahead of the last group matches that will see France take on Panama and Brazil take on Jamaica on Wednesday to determine who leaves and who moves into the knockout stage.
READ ALSORenard scores winner as France tame Brazil in W/Cup thriller
It will interest you to know that Captain Renard almost missed this world cup. In fact she had opted out of the world cup over unsatisfactory setting in the system, coupled with not too cordial relationship with the former coach Corinne Diacre who stripped her of the Captain's band after Euro championship semifinal exit last year.
However the engagement of Herve Renard in March this year following the sacking of Diacre,saw her return to the team taking up the Captain's band again and on Saturday did exactly what a captain should do when the going gets tough. The 33 year old Lyon defender has 147 caps for the national team with 34 goals to her credit.
With her hunger to add to her numerous laurels both at the national team and at club levels, she finds a partner in progress in Coach Herve Renard who has equally joined the team with impressive credential.
He is at the world cup less than a year after leading Saudi Arabia considered underdog in some quarters to the last World cup in Qatar where they shocked eventual winners Argentina in the opening match.
He is no new comer to coaching having handled several national teams including that of Morocco, Ivory Coast and Zambia team that he led to win the African Cup of Nations in 2012.
Renard is known for making impact as a coach and there are indications that he has eyes set on doing just that with Les Bleues and with name-sake Renard as captain equally determined, it is safe to watch and see how far they can go in Australia and New Zealand, even as France settle scores with Panama on Wednesday in the final group Match.