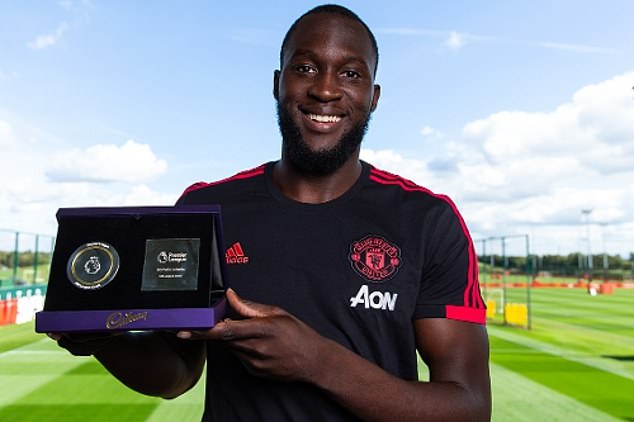 Romelu Lukaku has collected his award after joining the Premier League 100 club with a goal against Swansea towards the end of last season.
The Belgian international became the 28th player to reach the milestone having scored Premier League goals for Manchester United, Chelsea, Everton and West Brom.
Lukaku has been in great form for United and has already scored four goals in five Premier League games so far this season, but he insists he wants more.
'I'm really happy, it's been a nice journey until now where I've learned a lot and improved a lot and I want more,' Lukaku told the Premier League website.
'Yeah it was nice [to get my first goal], especially when it was against Liverpool. From that moment on I considered myself as a Premier League player.'
The 25-year-old also reflected on his time at Chelsea, his first game for the club, and how role model Didier Drogba has helped him and continues to do so.
'My first game [with Chelsea], yeah it was Norwich. We won the game and I came on and did really well.
'Well he's [Drogba] been a part of my process from day one until now, we talk almost every day,' Lukaku revealed.
When asked which of the 100 goals he thinks was his best, Lukaku replied: 'The one at City away in my last year at Everton, for me that was the best goal.'
The Man United forward was also asked whether he thinks about winning the golden boot, something he is yet to do.
'Obviously. Always. I think you always compete every year against Aguero, Kane, Salah this year. You always think about it as a striker.
'But at the end of the day I want to score as much as I can but I want to win championships. That's why I signed for Manchester United. Obviously playing here is a guaranteed playing for trophies and that's why I signed here.'