Sergio Ramos: And the Young Grew matured and showed class
Ramos and the boys
When you hear the expression "The young Shall Grow" what message does it send to you? Does it merely remind you of an inscription on the body of luxury bus of a transport company or takes you down memory lane  on the processes of germination of seed, growth maturity and the yielding of fruits.
Whichever comes to mind, it registers the fact that no condition is permanent and that the only constant thing in life is change.
Real Madrid Captain Sergio Ramos bid the club an emotional bye today 17th June, 2021 after 16 years at the Bernabeu.
Club President Florentino Perez recalls with nostalgia how he signed the 19 year old from Sevilla in 2005.  He arrived the Bernabeu full of expectations yet faced with a future that was pregnant and like in every other endevours in life the future unfolds gradually throwing up avalanche of ups and downs.
Ramos who played for all the junior categories of Spain and made 180 appearances for the national team matured with age and experience at the Bernabeu.
read alsoEmotional Ramos says goodbye to Real Madrid
Regarded as one of the best defenders in the world, and of his generation, Ramos is a physically strong player who excels in the air due to his elevation, eye for goal, and heading accuracy, making him a goal threat on set-pieces.
A real family man and UNICEF Ambassador, Ramos who started a relationship with journalist/presenter Pilar Rubio in September 2012, has four sons.
Sergio Jr (born 6 May 2014), Marco (born 27 November 2015), Alejandro (born 25 March 2018) and Maximo Adriano (born 26 July 2020.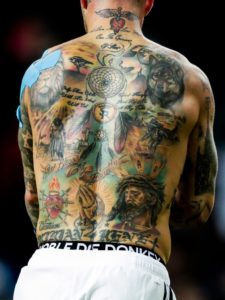 There is no gain saying the fact that Ramos is indeed a fulfilled fellow who enjoyed his passion and achieved all that needed to be achieved at the Bernabeu and the fans are not holding back in their lavish appreciation of him. A world Cup winner with Spain in 2010 in South Africa his awards are too numerous to mention with of course with four champions league title in the kitty, numerous La Liga titles
Uefa Super Cup four FIFA club world cup etc etc.  Ramos indeed deserves some accolade!