Soccer fans fight to the finish on Facebook over Omo-sexy
Nollywood star Omotola Jalade Ekeinde set fans on war parth
With the coronavirus lockdown still holding sports activities to the jugular, sports fans are not only bored but  indeed ready to do and imagine anything to keep busy.
Highly respected and high flying Nollywood star Omotola Jalade Ekeinde a.ka Omo-sexy was the subject of discuss and clash among soccer fans on Facebook Tuesday.
The beautiful mother of four who remains as dazzling as ever practically tore especially premier league fans apart as they threw pebbles at each other while insisting that the Nollywood star is better in their own club jersey.
The social distancing or better still social media backlash started when Omo-sexy photograph in Liverpool jersey surface on Facebook.
The photograph apparently was created by an imaginative Liverpool fan who wanted to add her beauty as icing on the cake.
Omotola who married her Pilot husband Captain Matthew Ekeinde in 1996 with the white wedding held on board a Dash 7 aircraft while flying from Lagos to Benin, had expressed surprise at the photograph while suspecting that her son Michael may be connected with the surprise package.
"Hahaha…. 😂 woke up to this!
This guys are really serious about this football thing oh. @ogbeniskywalker did @michael_ekeinde make you do this? 😃😂 #YNWA #Mumfootballfan"
But no sooner had the post hit the social media than the war of clubs began.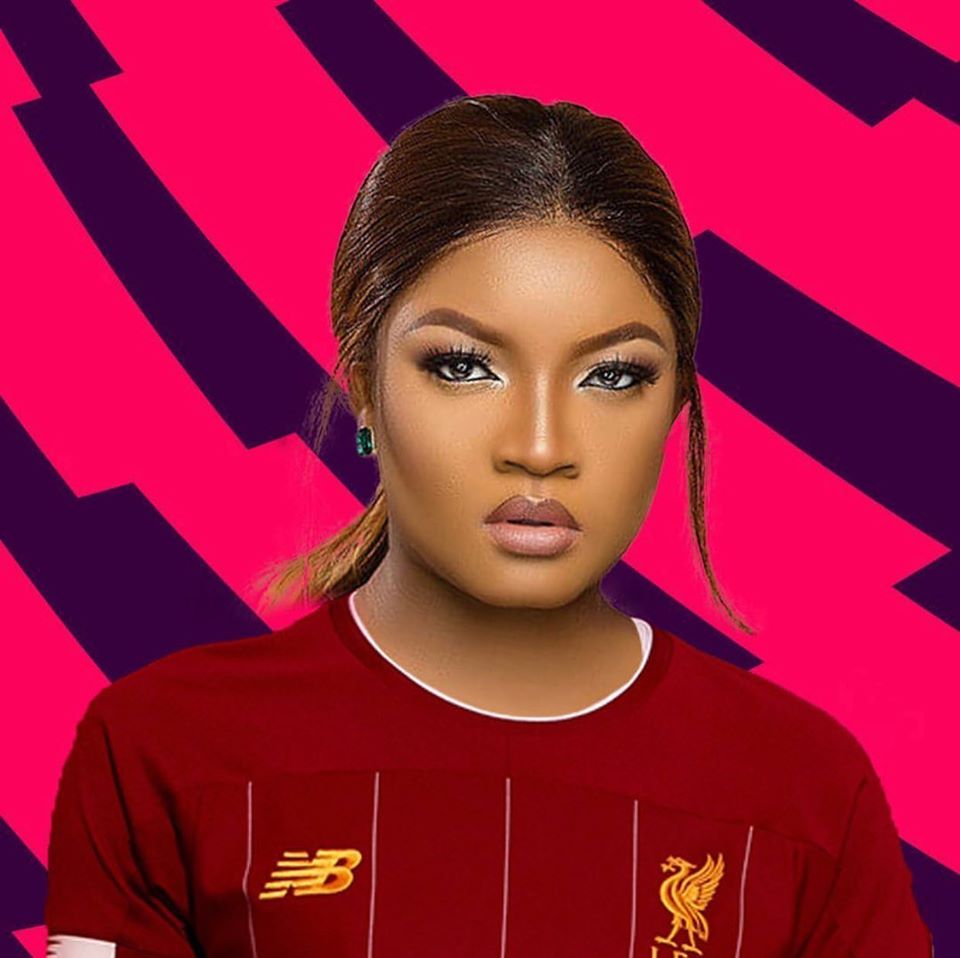 One of those who responded Ife Kayo said "Everything is beautiful about this picture except for the Liverpool Jersey. 😂 But by the time I imaginarily remove the Liverpool Jersey and give you another Jersey like Man United's, the picture becomes one of the best internet pictures of 2020 😂
Another Json Omajemite fired back "Anything sexy in football is Arsenal and as Omosexy is concerned; she's supposed to be an Arsenal fan wearing the Arsenal sexy jersey on a sexy Tuesday morning. Oh God she's missing ooooo"
Yet another Alfred Tonpeyo Makapi joined the clash "Always beautiful but Chelsea Jersey could have make it more attractive" he submitted and the battle went on and on.
However Azuka Charles Molokwu who could pass for a made in Nigeria campaigner took a swipe at any one who cares to face him, as he asked "Why are we so obsessed with English league, so many football clubs in Nigeria but no one advertises them, a British man can't mention any football club name in Nigeria but we kill ourselves fighting for Arsenal,Chelsea,Man Utd,Liverpool and others"
Read AlsoScientist slams decision to hold Liverpool match, Cheltenham Festival
With the Bundesliga leading the re-start project strong indications abound that other league will gradually open up so that the battle can again move on to the pitch.