Alexis Sanchez announces breakup in Instagram video
The party is over and it is time to go home. That is the best way to capture the end of romance between Manchester United forward Alexis Sanchez and his girlfriend Mayte Rodriguez.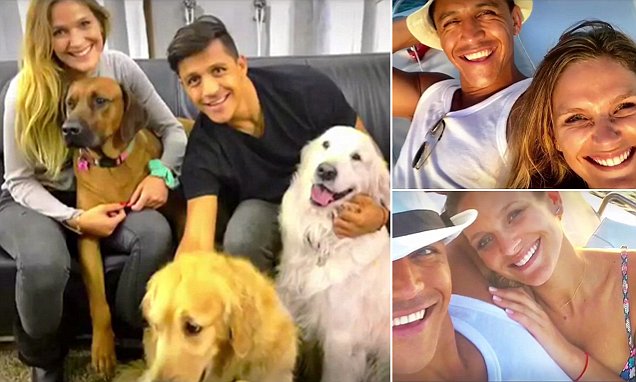 The Chile international announced the split from his girlfriend Mayte Rodriguez with a video on Instagram on Friday.  Apparently not ready for a post-split controversy, the former Barcelona and Arsenal ace cautioned those who would want to criticise his decision not to dabble into it as they do not know the crux of the matter.
He did not however fail to thank the girl friend for being wonderful while the sweet melody lasted.
The 15-second video shows pictures of the couple as the Sia track 'Helium' plays, and ends with a message from Sanchez confirming their breakup.
"I wish you the best of the world, it was beautiful to have met you and to share nice moments with you, but we decided that everyone should follow their own path to seek our dreams," it reads.
"I do not usually do this, but I ask respect from those who speak without knowing to hurt, because behind everything there are family and children."
Alexis Sanchez has dated many film and TV personalities from South America. In 2009, he started dating TV personality Faloon Larraguibel. The couple broke up a year later. Subsequently, Alexis dated Roxana Munoz, Tamara Primus, and Michelle Carvalho and Laia Grassi.
Mayte Rodriguez was born in Santiago, Chile in 1989 to actress Carolina Arregui and the director Oscar Rodríguez Gingins, so had acting in her blood.
She started her television career as a teenager, appearing in three episodes of BKN following her debut in the Canal 13 programme Musica Libre. After appearing as a regular cast member in Feroz, she was one of the leads in Infiltradas, where
she met Tiago Correa and began a relationship that lasted five years.
Rodriguez has appeared in a number of other popular Chilean television shows, including La Sexologa and Socias, as well as multiple films and adverts. She is currently starring as Antonia in young-adult thriller Dime quien fue
Mayte revealed to Hola magazine that she had met Alexis at a barbecue shortly after her relationship with actor Tiago
Correa ended. She had been dating Correa for five years, but did not begin dating Sanchez immediately after their introduction.
"I met Alexis when I was getting my life back on track," she told Hola. "I just lived the moment as I felt it. I flowed and we took the time we needed.
"We were getting to know each other and then it became a more serious relationship and we told our loved ones and their relationship became public. Things followed their course naturally like in any relationship. I think the most important thing is to be happy," she said
If there is one thing they both love however, it is love for their dogs which they never fail to take care of.