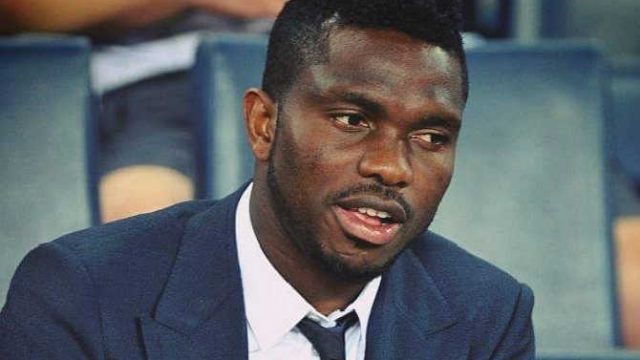 Everton fans celebrate Yobo's appointment, want Alex Iwobi to improve under his guidance
Everton fans across the world have been celebrating the appointment of one of their former heroes, Joseph Yobo, as assistant coach of Nigeria's Super Eagles.
Yobo played over 200 league games for the Toffees after joining from Marseille in 2002 and is fondly remembered by many at the club.
Yobo replaces Imana Amapakabo in the Super Eagles coaching staff and will assist head coach Gernot Rohr.
It will also see him working with one current Everton player on a regular basis. Alex Iwobi is one of the poster-boys for the Nigeria team and has amassed 40 caps for his nation since switching from England in 2015.
Everton spent big on the Nigerian in the summer but he has yet to show his best form for the club.
Yobo is already a fan of Iwobi. The 39-year-old, who won 101 caps for his nation, told Goal in the summer how pleased he was to see Iwobi arrive at Everton and even suggested the £35 million was justified for the winger.
"I must commend Alex Iwobi for making that bold move. Everton is a quality team and I'm happy as an Evertonian that we acquired a talent like him.
"I think the main reason behind this is his playing time, and I'm sure he will get that but he has to work harder than what he does in Arsenal.
"Apart from that, he's got everything to succeed and I'm not surprised that huge bid was made for him."
So far, Everton fans would argue whether the fee involved was indeed justified. Iwobi has struggled to establish himself at Everton and he has a similar position within the Nigeria national team.
He spent much of the World Cup in 2018 on the bench and underwhelmed at the African Cup of Nations in the summer.
His return of just seven goals in 40 caps has some Nigerian fans wishing for more from the Wideman and Yobo can hopefully bring the best out of the Everton star.
Read Also:Eagles defenders will benefit more from me – Yobo
If that then helps him become a key player at Goodison Park, then Yobo will have even more reason for favouritism on Merseyside.