Joshua v Ruiz: Winner will vacate a title–Eddie Hearn
Boxing promoter Eddie Hearn with Anthony Josshua
The winner of the December 7th rematch between IBF/WBA/WBO heavyweight champion Andy Ruiz Jr.
and Anthony Joshua could vacate one of the titles, according to promoter Eddie Hearn.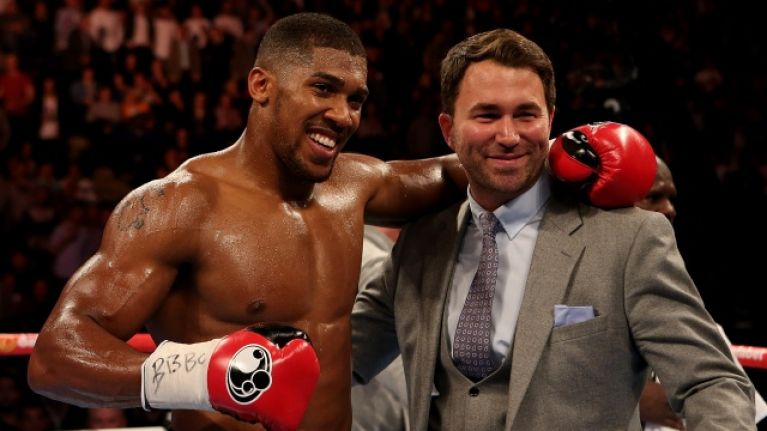 He says that the IBF and WBO mandatory are both due next at the same time. One of those two titles will be vacated. It'll be up to the winner of the Joshua-Ruiz rematch to decide which belt to vacate.
Hearn co-promotes the 32-year-old Usyk, who recently made his heavyweight debut in beating Chazz Witherspoon last Saturday night on DAZN.
"It looks like Povetkin-Hunter for that fight," said Hearn to Sporting Icons about the undercard for Joshua-Ruiz 2 on December 7.
"It is," said Hearn when asked if the WBO mandatory is next for the Joshua vs. Ruiz winner. "So is the IBF. The IBF is also next, and so is the WBO. I think a belt will be vacated. Basically I think both fights [IBF & WBO mandatory] will be due," said Hearn.
The 38-year-old Pulev might be the easier mandatory for the Joshua vs. Ruiz Jr. rematch to deal with.
Pulev won't use a lot of movement, and angles in a fight against the winner of the Joshua-Ruiz rematch.
Read Also: Wilder backs Ruiz to beat Joshua again
Further, Pulev is older than the 32-year-old Usyk, and there to be hit.