Ramsey:  It's been 11 wonderful years at Arsenal
Aaron Ramsey broke down in tears on the Emirates Stadium pitch as he bade an emotional farewell to Arsenal.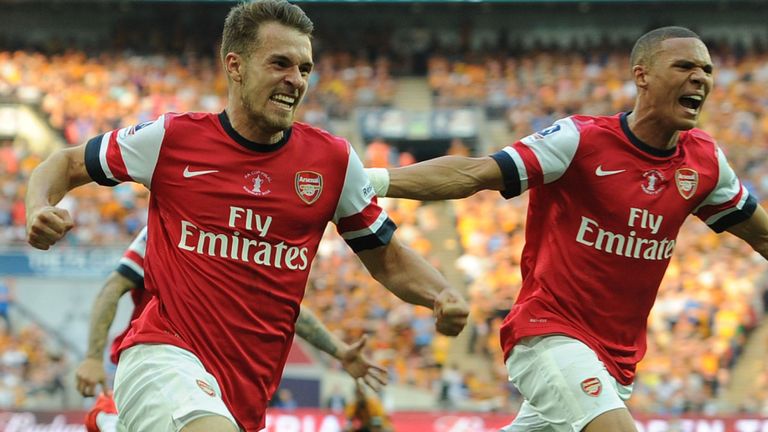 The Wales midfielder will join Juventus when his contract expires at the end of the season, bringing down the curtain on an 11-year stay in north London.
He then broke down as he stood next to Petr Cech, who is retiring at the end of the season, before giving an emotional interview to Sky Sports.
"Obviously it's very emotional, it's been a hell of a journey," he said.
"Eleven years of my life, so much has happened in that, when I look back. You can tell by my voice how much it means to me.
Ramsey said an emotional goodbye to the Emirates Stadium and Arsenal after 11 years at the club, following the 1-1 draw with Brighton in the Premier League
"I'm just grateful for the opportunity to play for this great club and spend so many years.
"I spent 11 years here, I came here 17 years old – a boy – and I'm leaving a man. I've got a family, my wife, my kids, so much has happened, I'm just grateful for the opportunity here.
"Obviously I'm really excited for the new challenge and new chapter in my life [at Juventus] but today it's all about this", he added. "This is where I grew up here, I just want to take this in today and let it settle in for a few more days before I can really look forward and concentrate on that.
Ramsey highlighted his first FA Cup final goal, an extra-time winner against Hull which ended Arsenal's nine-year run without a trophy, as his favourite memory.
"The FA Cup win against Hull has to be the favourite because we'd gone a few years without winning the trophy," he said.
"I'd been playing really well that season until Christmas time when I got injured, and I had a few setbacks as well and it was really gutting, but then to come back and get a couple of games then to cap it off with a win in the final, that meant a lot."