Golden State Warriors begin NBA season with win
The Golden State Warriors opened their quest for a three-peat by holding off the Oklahoma City Thunder 108-100 on Tuesday night.
Steph Curry had 32 points, nine assists and eight rebounds, Kevin Durant added 27 points, eight rebounds and six assists, as the Warriors are on the hunt for a three-peat.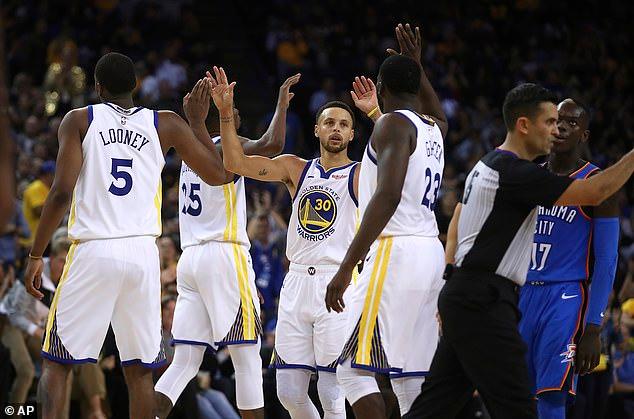 Golden State needed a strong fourth quarter to win on a festive night after the two-time defending champions received their 2018 rings in a pre-game ceremony shortly before tip-off and began the final season at Oracle Arena before a move across San Francisco Bay to new Chase Center.
"It's a great move for the organization. We know that but this place is special, so we want to make sure this is a special season," Coach Steve Kerr said.
Klay Thompson shot just 5 of 20 for 14 points while center Damian Jones scored 12 points on 6-of-7 shooting for the Warriors in his first career start and 26th game. Paul George scored 27 points for the Thunder, who struggled to find an offensive groove while missing star Russell Westbrook because of knee surgery last month.
Oklahoma City trailed by 10 at the break then came out of half-time making 9-of-12 shots to go ahead 69-66 before the Warriors rallied.
Versatile Warriors All-Star Draymond Green, limited during the preseason by a sore knee, wound up with two points, 13 rebounds and five assists in nearly 33 minutes. Kerr plans to monitor his minutes in the early games.
Curry looks to add to his personal tally during the hard-fought win at Oracle Arena in California
"He told me if you look tired, I'm taking you out, so, maybe I'll try to hide it," Green joked at morning shoot around.
Curry, who shot 11 for 20 with five 3-pointers, notched 17 30-point performances during his injury-shortened 2017-18 season.
These team has met in a season opener for the first time – though the Warriors won on the road against the Seattle SuperSonics in 1983.
Golden State lost last year's opener at Oracle after a title run, 122-121 to the Rockets.