Joshua sends message to legends Mike Tyson, Mayweather
Anthony Joshua has paid tribute to the 'GOATs of boxing' as he praised legendary fighters Floyd Mayweather and Mike Tyson.
The 30-year-old Nigerian-born Brit superstar took to Instagram and suggested that Mayweather and Tyson are two boxers that 'helped pave the way for him.'
'AJ' wrote on Instagram Stories: "Gotta pay homage to the [GOATs] that paved the way for us."
Joshua, who became a two-time unified heavyweight champ last year, shared an image of Mayweather and wrote: "'Hard work, dedication.' Money May."
The unified heavyweight champ continued by focusing on Tyson and used a quote from 'Iron' Mike's legendary former trainer, Cus D'Amato.
'AJ' posted: "A boy comes to me with a spark of interest, I feed the spark and it becomes a flame. I feed the flame and it becomes a fire. I feed the fire and it becomes a roaring blaze."
Joshua added his own thoughts on Tyson and said it was a "tragedy" to see the former undisputed heavyweight champ be beaten by himself rather than an opponent.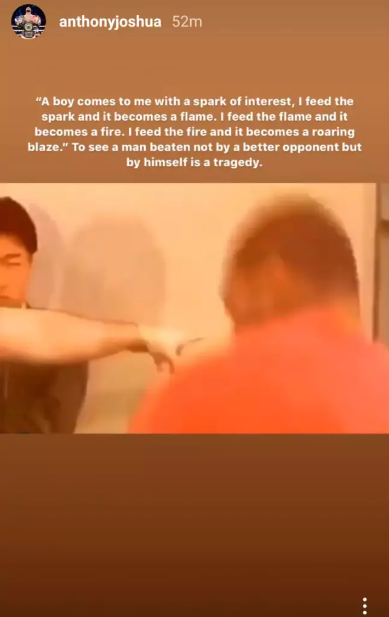 "To see a man beaten not by a better opponent but by himself is a tragedy," the Brit heavyweight said.
Tyson, 53, was widely feared for his devastating punching power and is often considered one of the best heavyweights of all time.
The 'Baddest Man on the Planet,' who remains the youngest boxer to win a heavyweight title, retired from boxing in 2005 after back-to-back defeats.
Mayweather, 43, retired undefeated in 2017 after he chalked up an unblemished record of 50-0.
Read Also: Boxing: Legendary heavyweight hints at comeback
The future boxing Hall of Famer last fought in a blockbuster crossover fight with UFC superstar Conor McGregor.
Mayweather teased last year in an Instagram post that he would be coming "out of retirement in 2020" as part of a collaboration with UFC president Dana White.