Video: Klopp furious after Liverpool's loss to Man City
Jurgen Klopp during the interview
Jurgen Klopp showed it's a good job that Liverpool usually win, as the manager was pretty rattled by questions from Geoff Shreeves following the loss at Etihad Stadium on Thursday night.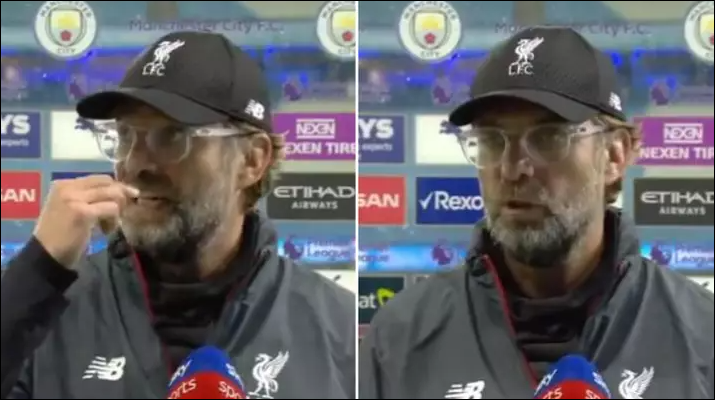 Just a week after Manchester City's loss to Chelsea had officially crowned Liverpool as champions, Pep Guardiola's side welcomed Klopp and his team to the Etihad Stadium.
They weren't too welcoming on the pitch though as they ran out 4-0 winners to dent the Reds' chances of beating City's record 100 point season.
After the match Sky Sports' interviewer Shreeves spoke to Klopp about the loss and the German wasn't happy at all with the line of questioning, which seemed to be pretty standard.
. @GeoffShreeves 🗣 "At 0-0 did you have good chances?"

Jurgen Klopp 🗣 "You ask me? why are you asking me? you watched the game completely calm why are you asking me?" pic.twitter.com/zGudulNeqN

— Football Daily (@footballdaily) July 2, 2020
The Reds started well against City, and had their own chances at 0-0, as Shreeves suggested, but once they couldn't get ahead and things changed after the drinks break.
Whatever Guardiola said worked and the former champions won a penalty when Joe Gomez brought down Raheem Sterling, continuing their rivalry from earlier in the season, which Kevin de Bruyne scored from.
"I saw a brilliant attitude. I saw boys who were fighting with all their effort." 💪

Listen to Jurgen Klopp's thoughts following Liverpool's heavy defeat to Manchester City 👇 pic.twitter.com/gkgyA3uxRb

— Sky Sports Premier League (@SkySportsPL) July 2, 2020
Sterling got in on the act himself by making it 2-0 after 35 minutes and Phil Foden added a third on the stroke of half-time.
Alex Oxlade-Chamberlain, on as a half time substitute, scored an own goal after 66 minutes to make it 4-0, after it looked like Sterling would add a second but his shot was actually heading wide.
🗣 "If you want to lead this story in the direction that we were not focused on our game then do it"

Jurgen Klopp is not happy with @GeoffShreeves questions pic.twitter.com/kyzx3XWhHE

— Football Daily (@footballdaily) July 2, 2020
Read Also: Liverpool close to signing Bayern Munich star
Guardiola's side couldn't add to their total but did have further chances, as the hosts showed their best form that has been missing for too much of this season.
In the end it makes no difference as Liverpool have been so good this season and only lost twice in the league, which is fortunate for Shreeves and everyone else with a microphone.