Ramadan kindness: Musa secures release of 40 Prisoners after paying debt
Musa signing the release papers of the inmates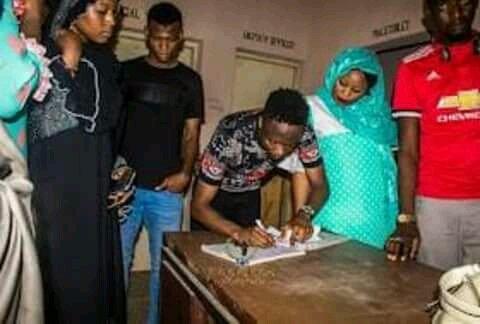 As part of his show of love in the Holy Month of Ramadan, Super Eagles' forward Ahmed Musa has secured the release of 40 prisoners that were thrown into jail owing to their inability to pay off their debts in Kano.
Sportinglife.ng understands that the footballer settled the debts of the prisoners after visiting some of the prisons in the ancient city this week as part of his Ramadan duties of touching the lives of the needy and vulnerable in the society.
Read Also | World Cup: Eagles Kit In High Demand
Musa volunteered to clear the debts after he was briefed by the prison officials why they were sentenced to jail.
The pictures of the footballer signing their release papers were posted on Musa's official Twitter handle.
Musa's magnanimity was embraced by fans and followers of Musa on Twitter who prayed for him and a good outing at the World Cup.
"Part of #Ramadan goodwill, #Nigeria @NGSuperEagles star @Ahmedmusa718 secured freedom in #Kano for 40 #PrisonInmates, serving 4 minor financial indebtedness. With him was fellow @NGSuperEagles ace @OfficialShehu. Wish them a glorious @FIFAWorldCup [email protected] @EmirSanusi @thenff," a twitter handle @BalaAbdullahiGa prayed for Musa.
Read Also: World Cup: Eagles Kit In High Demand
Fellow Eagles teammate and friend Shehu Abdullahi accompanied Musa who is known for helping the poor anytime he is in the country.
The CSKA Moscow of Russia striker also extended the same helping hand to four minors who were also financial indebted.   Musa also donated food items and money to the less privileged within the metropolis.